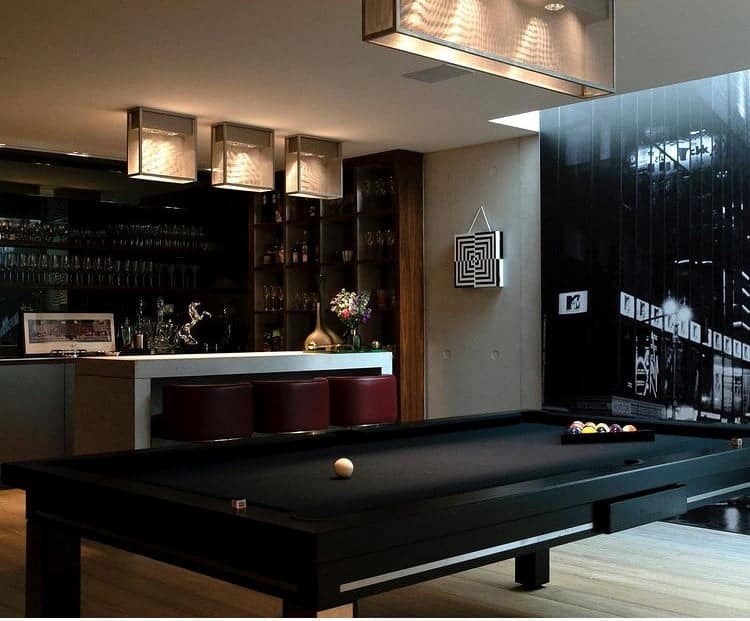 Your home is your sanctuary, which means it should fulfil all of your needs and provide you with an enriching environment. Designing a space for entertaining ensures that you have a dedicated place for escapism, fun, and relaxation.
Additionally, designating a particular area of your property as an entertainment space allows you to incorporate new design ideas and themes into your home. To get started, take a look at these top tips for designing the perfect entertainment space now:
Identify Your Entertainment Goals
Before you start planning your new space, think about what type of entertainment you enjoy and what type of events you plan on hosting. If you're known for hosting elegant, formal dinners, for example, the dining room may be a core concept in your design. Alternatively, if you prefer more informal gatherings, you might want to create a relaxed and comfortable atmosphere elsewhere in your home.
Similarly, remember to differentiate between entertainment spaces you're likely to use as a family or with close friends and spaces that are more suitable for larger events, such as parties. A home cinema can be a great option for families and small groups of guests, for example, whereas a home bar might be ideal for larger parties.
Designate a Space
Dedicating part of your home to entertainment is always worthwhile, so don't hesitate to reserve part of the floorplan purely for fun. Of course, this can be tricky if every area of your home already serves a distinct purpose. If you're designing a space for entertaining, a basement conversion and extension can be a fantastic option. Not only will you increase the square footage of your home, but you can also play a role in designing every element of the space you're creating. With stairs leading directly from the basement area to your garden, you can even design an indoor-outdoor environment that's perfect for entertaining.
If you want to use existing space for entertaining, consider which areas of your home you're willing to share with guests and which spaces provide the best atmosphere. A roof terrace with a stunning view can be an ideal location for cocktail parties or drinks before dinner, for example.
Increase Fluidity
Even when an entertainment space is distinct from the rest of your home, it should never feel cut off or distant. By increasing fluidity, you can ensure that there is a natural transition between other areas of your property and your new entertainment space. You can achieve this by choosing a design and style that complements the existing interior of your home and using creating a balance between each part of your property.
If the more public areas of your home, such as the dining area, kitchen and living areas, are open-plan, it's particularly important to ensure that new entertainment spaces enhance the fluidity of the environment, rather than diminish it.
Maximise Versatility
Entertainment trends change all of the time and there's a good chance you'll want to use your new space for more than just one type of event. To make this possible, focus on maximising versatility when you're designing a space for entertaining.
Use large rugs on the floors ensures they can be moved easily and transferred to other areas within your home, for example. Similarly, portable lighting, such as floor standing or table lamps, can be transported from one area to another in seconds.
You'll even find that some furniture designed for entertainment spaces is created with versatility in mind. Choosing a home bar that features hidden wheels or casters allows you to increase the functionality of your home and modify your entertainment space at any time.
Use Warm Hues
You want people to feel welcome, relaxed and at ease when they visit your home for entertainment purposes, so make sure you factor this into your decision-making when you're designing a space for entertaining. Warm shades help to make a room feel more intimate, which is ideal when you want your guests to get to know one another. Furthermore, warm colours tend to convey excitement and even exuberance, which is exactly what you want to achieve when you're creating a space for escapism and fun.
Incorporate Varied Seating
The right seating is integral when you're creating an entertainment space, so be sure to consider this early on during the design stage. Ideally, you'll want to incorporate varied seating options into the area, so that people can naturally gravitate to what suits them best. Sofas, chairs, and benches are ideal in an entertainment space, but stools and statement seating can work well too.
Although comfort should always be a top priority when you're designing an entertainment space, think about the flow of traffic if you're hosting larger events, such as parties. If you want guests to move through the space and get to know one another, choose seating that's comfortable but that doesn't entice people to stay in one place for too long.
Use Lighting to Create Ambience
Lighting is a core component of any room and it's particularly critical in an entertainment space. Subtle lighting wired into shelves or bookcases can increase the impact of your interior design and take a room from day to night, for example. By using a range of different options, such as lamps, wall lights and ceiling lights, you can create a layered effect that lends itself to any type of entertainment. Similarly, choosing lights that can be easily adjusted, such as dimmable bulbs, will give you total control over the atmosphere and ambience.
Enjoying Your New Entertainment Area
Once your entertainment space is complete, all that's left to do is enjoy it! While it can take time to design the perfect space for entertaining, your hard work will be well worth it when you experience the end result. Whether you plan on hosting large-scale events or friends and family are a permanent fixture in your home, a bespoke entertainment space will provide all the fun and escapism you need.