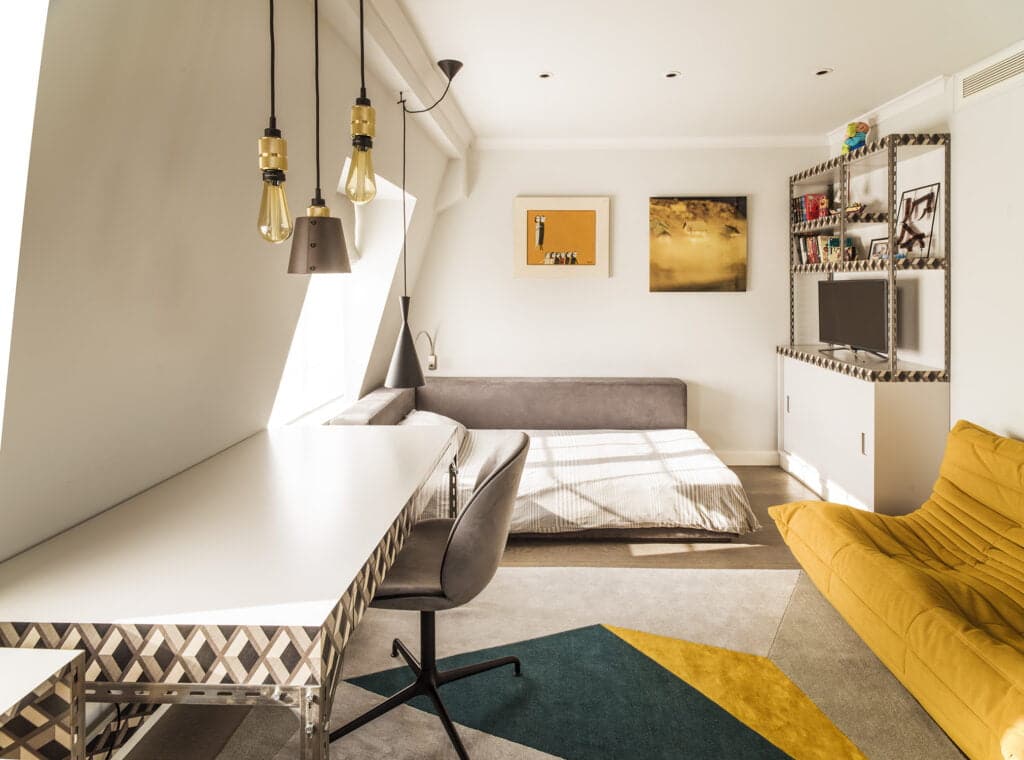 As a parent, there's no doubt you'll want to ensure your child has everything they need. By designing a luxury bedroom for them, you can establish a calming and tranquil environment that promotes relaxation while also creating an inspiring space that reflects their personality and potential.
Kids grow up alarmingly quickly, which is why it's important to capture their imagination at every stage of their development. With the right styling, their bedroom can be a place of wonderment and joy, as well as a functional and versatile room. For inspiration, take a look at these top tips for designing a luxury kids' bedroom and create the perfect place for your children to grow up in:
1. Use Colour Themes
When you're designing a child's room, it's tempting to choose a theme that relates to their current interest or age. However, this typically puts a short time limit on how long your child will enjoy the décor. After all, kids regularly have new favourite animals or characters and often develop a wide range of interests as they get older.
By using a colour theme as the base for your design, you can ensure that your child's luxury bedroom stands the test of time. Interests and hobbies can then be used to enhance the décor and updated at regular intervals. Not only does this keep the room and its design feeling fresh, but it also ensures that you can update your child's room to reflect their changing interests and hobbies as they get older.
2. Make the Bed a Focal Point
As the bed is usually the largest piece of furniture in any bedroom, it naturally acts as a focal point. When it comes to designing a luxury kid's room, you can really go to town and transform the bed into a statement piece of furniture and a central element of the interior design.
From fairy wonderlands with a canopy bed to an elevated bed with a built-in fort and slide, there are endless possibilities to consider. You'll find many children's beds that are pre-made in fun and exciting styles but if you want to create something bespoke, you can have a luxury bed built to your own specifications. This gives you the opportunity to unleash your creativity and produce something that adds the finish touches to your interior design and ensures your kid has a spectacular bedroom to enjoy.
3. Maximise Storage
No matter what age your child is, there's a good chance they have more toys than you prepared for! Due to this, you'll need to incorporate storage solutions into your bedroom designs to maximise functionality. This can be done in many ways, but built-in storage is often the best way to make the most of the space that's available.
When you combine built-in storage solutions with freestanding options, such as drawers and toy chests, you can ensure that your child's luxury room has sufficient storage space. As well as making sure the décor can be seen in its best light, this also enables you to keep the room clutter-free.
4. Bespoke Carpentry
Designing a luxury bedroom is significantly easier when you can incorporate bespoke solutions into your plans. Instead of relying on furniture with existing specifications, for example, you can have items custom-made to fit the room. Not only does this ensure that your child's luxury bedroom will be totally unique, but it also allows you to showcase the property's features and make the best use of the space that's available.
In addition to this, high-quality craftsmanship really does stand the test of time, which is why bespoke carpentry and cabinetry is well worth investing in. While you might want to update the décor over time, having furniture custom-made and built-in will enable you to create a bedroom that evolves with your child as they grow.
5. Use Wall Décor to Keep the Floor Free
A child's bedroom is often used for play, as well as for sleeping, which means you'll want to enhance its versatility in as many ways as possible. When you maximise wall décor, you can create a stylish interior design while still leaving the floor space free to use as a play area.
Patterned wallpaper or artwork can be a fantastic way to enhance a child's room, for example, and matching bedding and furniture will complete the design. Similarly, choosing a flooring that complements the design but promotes functionality will ensure your kid's bedroom is easy to clean and maintain, as well as being stylish and luxurious.
6. Create a Separate Play Area
Even if your child has a separate playroom, there's a good chance that they'll use their bedroom as a play area too. While it's great for youngsters to be able to use their imaginations and play with toys, a cluttered bedroom can disrupt night-time routines.
Kids need a calm and relaxing environment to promote high quality sleep in the same way that adults do. Of course, if toys are visible when you're trying to settle your child at night, they're likely to become distracted and want to stay up to play, rather than going to sleep.
Having sufficient storage space can go part way to solving this issue, as toys can be put away out of sight before bedtime rolls around. However, using a decorative room divider can also be an effective way of creating a separate play area within a luxury kid's room. This will enable you to create a tranquil space for sleep and a more dynamic environment for play, without disrupting your child's evening routine or affecting their sleep quality.
Designing a Bespoke Bedroom for Your Child
Children tend to spend an increasing amount of time in their room as they get older, which means it's important to ensure that their room is inspiring, functional and soothing. When you use interior design to create a room that combines their interests with a calming colour palette and versatile features, you can transform the space into a luxury room that nurtures your child as they grow.