A mantelpiece can be a fantastic focal point in any room, providing you make the most of it with décor and styling. Whether you favour a traditional interior or a modern, contemporary style, inspired decoration can elevate a mantlepiece and make it a core feature. From living areas to bedrooms, find out how to make the most of your mantlepiece with these eight decorating tips:
1. Use Contrasting Colours to Make Your Mantlepiece Pop
If your mantlepiece is constructed from wood, you can repaint it as many times as you like to refresh your décor and uplift your interior design. To make your mantlepiece pop and ensure it's the main feature in the room, use contrasting colours for the mantlepiece itself and the surrounding hearth or wall. A crisp white mantlepiece can look exquisite against a dark wall, for example, while a dark-hued mantle will stand out against a light or pastel backdrop.
2. Fill the Space Above the Mantlepiece
If there is a large expanse of space between the mantlepiece and ceiling, the mantle can end up looking a little lost, particularly in larger rooms. Filling this space with a mirror, artwork and wall scones can be an effective way to draw the eye to the mantle and complement its features.
Before you do this, however, consider what type of accessories you want to use to style the mantlepiece. If you favour tall vases, candlesticks, or decorative pieces, factor the height of these in when you're choosing what to hang over the mantlepiece so that the area doesn't feel crowded.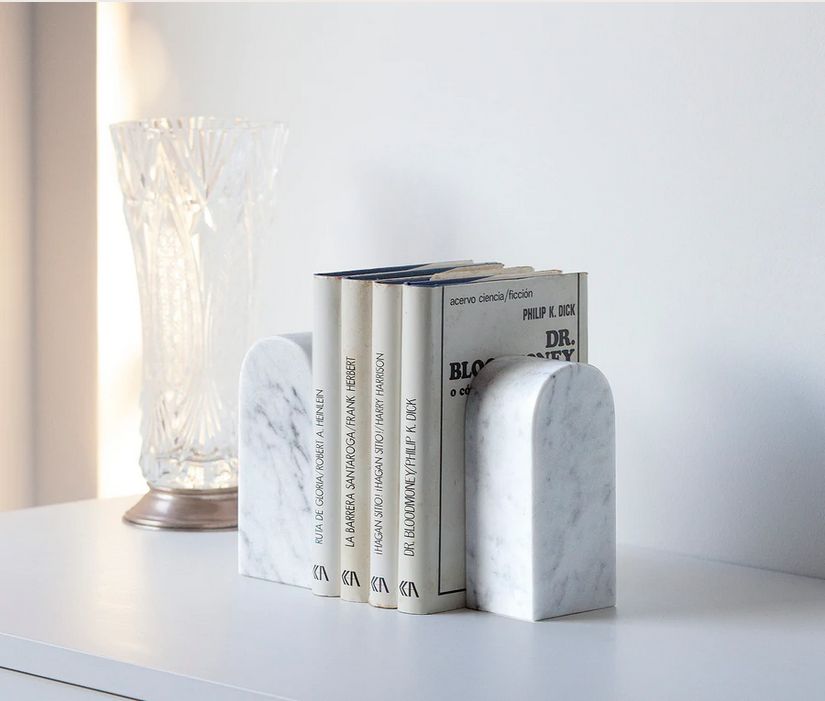 Aparentment Rectangle Prism Shaped Marble Bookends
3. Add Different Shapes, Textures, Sizes and Materials
When you're choosing which pieces to display on your mantlepiece, be sure to add a range of different shapes, textures, sizes, and materials. This will add visual interest to the area, as well as depth. If you add square-shaped, tall vases to either side of the mantlepiece, for example, balance these with a circular decorative plate in a bronze, gold, or silver.
Alternatively, you can complement taller accessories with more compact items, like a small stack of books, the Bamboo Root Flamingo Sculpture by Lotus Arts de Vivre or Marble Bookends by Aparentment.  With a mix of materials, sizes, and shapes, you can create a unique mantlepiece design that will complement your décor and add balance to your interior design.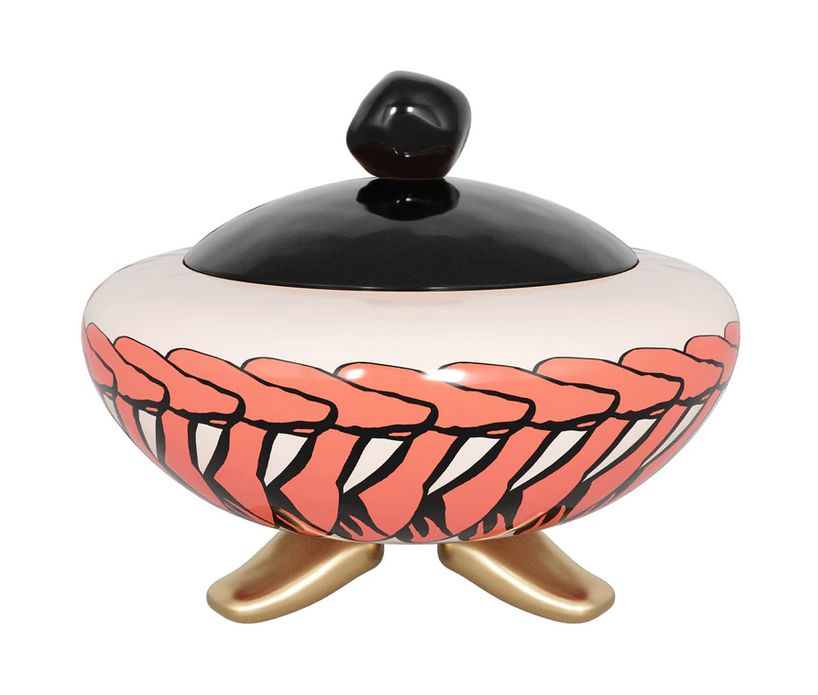 ACH Collection Saturn Painted Ceramic Canister
4. Layer Items to Create Depth
When positioning items and accessories on your mantlepiece, don't make the mistake of placing everything in a uniform line. This limits your creativity and reduces the number of pieces you're able to showcase. Instead, layer items in front of each other to create depth and visual appeal.
You may want to rest artwork against the wall, with decorative pieces like the Saturn Painted Ceramic Canister by ACH Collection in front of it, for example. Again, using different textures, sizes, shapes, and materials will allow you to layer pieces without overcrowding the mantlepiece and will ensure that the styling elevates the entire feature.
5. Hide Electronics with Bifold Doors
Flatscreen televisions are often hung above fireplaces, but these can detract from the overall visual appeal of your mantlepiece and interrupt its styling. If you're going to add a flatscreen tv to the wall above a fireplace, use interior design tips and tricks to minimise its visual impact when it's not in use.
Adding a recess to the wall will enable you to hang the television so that it's flush with the surface of the wall and prevent electronics from competing for attention with your décor. Similarly, custom bifold doors above the fireplace can be a subtle yet effective way to incorporate electronics into the room while maintaining effortless styling and design.

Casarialto Kansashi Handmade Vase
6. Group Items in Odd Numbers
If you want your mantlepiece to attract attention, group decorative pieces or artwork in odd numbers. Three candlesticks will be more impactful than two, for example. What's more – grouping items in odd numbers gives you more opportunities to incorporate different sizes and shapes.
The Kansashi Handmade Vases by Casarialto are an excellent example of how you can achieve balance, interest and uniformity when styling a mantlepiece in this way. Available in three sizes and three shades, you can add depth and colour to your mantlepiece while retaining a sense of consistency by choosing pieces from the same range.
7. Add Candles to Create a Relaxed Ambience
Candles are a fantastic addition to any mantlepiece, both in terms of function and style. With a wide range of candleholders and sticks, you can achieve any interior design style when you incorporate these into your mantlepiece design. Furthermore, candles always create a relaxed, informal, and cosy atmosphere when they're lit, which will enhance the way the space looks and feels.
Don't forget – a calming scent, like lavender, jasmine or bergamot can help to create a casual and tranquil atmosphere, so select lightly fragranced designer candles for your mantlepiece if you want to create a peaceful and serene environment.
8. Display Fresh Flowers for a Burst of Colour
When you want to add colour to your mantlepiece, fresh flowers are the perfect option. Not only do they brighten a room but incorporating greenery into your interior can have a positive impact on your mood and well-being.
For on-trend styling, choose flowers that represent the season and use plants, grasses, and greenery to reflect the outdoors. Bold lilies and vibrant gerberas can be great in the summer, for example, while celosia, asters and Chinese lanterns are ideal for autumn. With new displays every week, you can use fresh flowers to continually refresh your mantlepiece design.
Create a Focal Point with Mantlepiece Styling
To truly make the most of your mantlepiece, be bold when you're deciding what to showcase and what style to go for. It's easy to update your mantlepiece design, so be as creative as you like when you experiment with new ideas. By doing so, you'll create a unique mantlepiece that becomes a core component of your interior design.