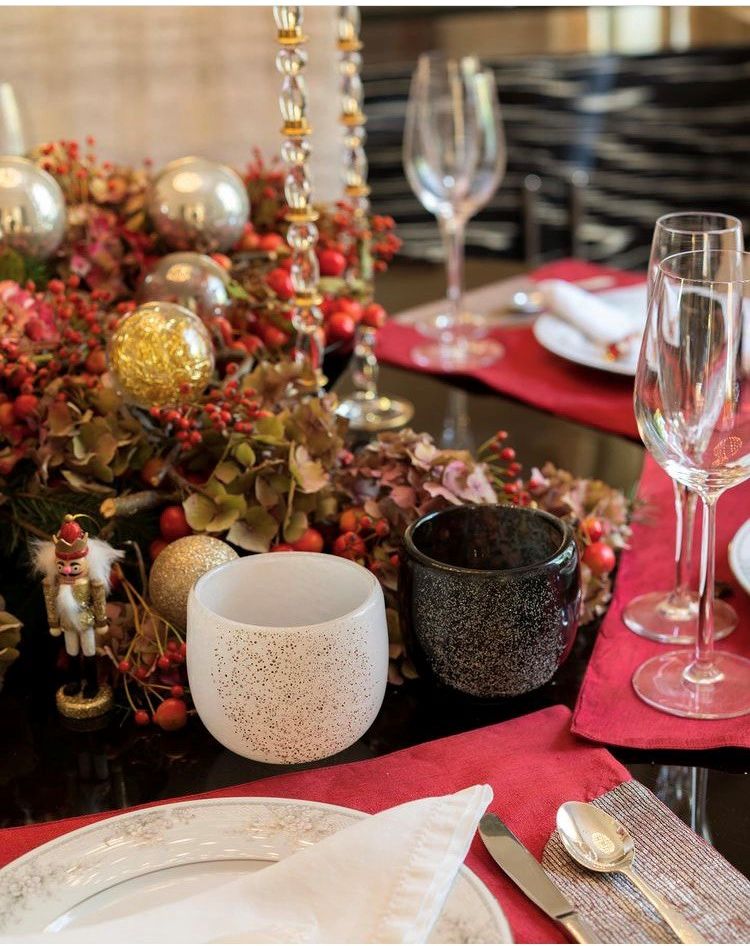 With Christmas fast approaching, you'll want to make sure that you're all set for the holidays. Whether you are wrapping presents, preparing for visitors, or planning to relax and unwind over the festive season, decorating your home can transform your environment and give the space a seasonal feel.
To get a head-start on your festive interior design updates, take a look at these top tips to decorate for the Christmas period:
1. Make Fireplaces a Priority
If there's one feature that's perfect for festive decorations, it is a fireplace. Wherever fireplaces are situated in your home, be sure to make the most of them at Christmas. Whether you favour a traditional design or a more contemporary twist on Christmas, fireplaces are one of the easiest features to transform.
Remember – less can be more when you're dressing a fireplace, particularly if you plan on lighting the fire over Christmastime! Strategically placed stockings, candle holders to add height to the mantlepiece, or discreet twinkling lights can be just as effective as larger decorations.
2. Design Your Centrepieces
For many people, sitting down for Christmas dinner with family and friends is the highlight of the festive period. If you're hosting a series of events before the big day, it's even more important to get the centrepieces right. Centrepieces can act as a link between the aesthetic of the interior design and the tablescape, so use them to maximise the overall impact of the space.
A festive garland can be a fantastic centrepiece on a rectangular dining table, particularly if you're catering for numerous guests, while hanging pendants from a low light will create a stunning centrepiece and maximise table space.
3. Finalise Table Placements
Once your guest list is confirmed, you'll be able to finalise your seating plans and create spectacular tablescapes. The right placements can be as simple as using chic runners and statement tableware but, at Christmastime, it's the perfect opportunity to make things a little more special.
Patterned placements can complement your colour scheme and add frivolity to your festive dining table, for example, while coloured glasses and matching napkin rings turn any gathering into a sophisticated soiree.
4. Focus on the Entranceway
When people first arrive at your home, it's the front door and surrounding area that will have the biggest impact, so don't make the mistake of letting your festive decorations begin inside your home. Instead, use external décor to enhance your property and set the tone for your interior design. Hang a Christmas wreath on the door and add subtle lighting to illuminate your exterior design.
As guests step over the threshold, make sure there is a festive feel to greet them. Hallways can have a spectacular impact at any time, which makes them superb for special occasions. You may want to position a Nordic Fir dressed in baubles and lights in a large entranceway, for example, or run a lighted garland down the handrail of a statement staircase.
5. Embrace Nature at Christmastime
Incorporating nature into your interior design is an effective way to maximise wellbeing and give any space a lighter feel. When you embrace nature during the festive season, you'll have the opportunity to incorporate a wide range of decorations and additions into your interior design. From pinecones and holly to magnolias and white roses, these natural elements can take pride of place in table centrepieces or be used to enhance the appearance of Christmas wreathes.
If you're planning to have a natural tree this Christmas, keep an eye out for sparse or asymmetrical trees. These are on-trend this season and are an excellent way to maximise space and give your interior design a contemporary feel while reflecting the irregular shapes that are found in nature.
6. Combine Dark Hues with Metallic Shades
Metallics are always popular during the festive season and this year will be no different. From classic reds and golds to modern silver and cool chrome, you can add brightness when you incorporate metallic elements into your Christmas décor. In 2021, however, pairing darker hues with metallics is the way to go.
A deep French Rose pink combined with silver accessories can give your Christmas a vibrant feel, for example, while inky blues and gold add warmth and elegance. Combining darker shades with metallics makes it easy to incorporate your regular colour palette into your festive décor, so don't be afraid to stray from the traditional and use new colour pairings this season.
7. Update Seating to Maximise Comfort
When you're planning your Christmas events, don't forget to increase the amount of seating available! If you're hosting a large number of guests, you'll want to ensure that you have sufficient space for everyone to relax comfortably. As well as adding extra chairs to your dining table, you may want to re-assess your living room or entertainment area and incorporate modular seating or stools to cater for your visitors.
8. Choose a Focal Point in Each Room
When you're decorating your home for Christmas, select a particular feature or element as the focal point for each room. This will prevent you from cramming too much into a single space, but it will also encourage you to highlight the best features in each area. With more subtle décor throughout the rest of the room, you can be sure that a single focal point will capture everyone's attention and showcase your design at its best.
Furthermore, selecting a focal point in each room will enable you to maximise space and avoid rooms from becoming overcrowded, which is especially important during the festive season, when you're likely to have more guests in your home.
Preparing for the Festive Season
No matter how you plan to spend your time over the festive season, decorating for Christmas can always take longer than you expect! By beginning your preparations now, you can ensure your home is ready for everything the season brings. What's more – you'll give yourself a little extra time to relax, unwind and enjoy the festivities.