They both serve the same purpose: Fashion and Interior Design are undeniably potent mood enhancers. A velvet jacket can make you feel seductive and glamorous, just like a plush velvet sofa adds instant panache to your room.
There is no better time to examine the shy yet thrilling affair between these two forms of everyday art than during the annual rendezvous of Fashion Month and London Design Week. Let's take a glimpse at the trending looks from London and New York's catwalks to discover ways to inject the full SS19 essence into your interiors.
1. Burberry
And it happened. Riccarco Tisci, the new chief creative officer at Burberry, officially began his reign with a debut collection, Kingdom. And what a Kingdom that is – 133 striking looks inspired by British heritage echoes a societal change that brings us "the Queen and punk, the skinheads, the Victorians, the freaks". It would be quite a statement to welcome all these style clans in our interiors at once. For now, let's follow Tisci's lead and focus on the refined, the relaxed and the rebellious individually.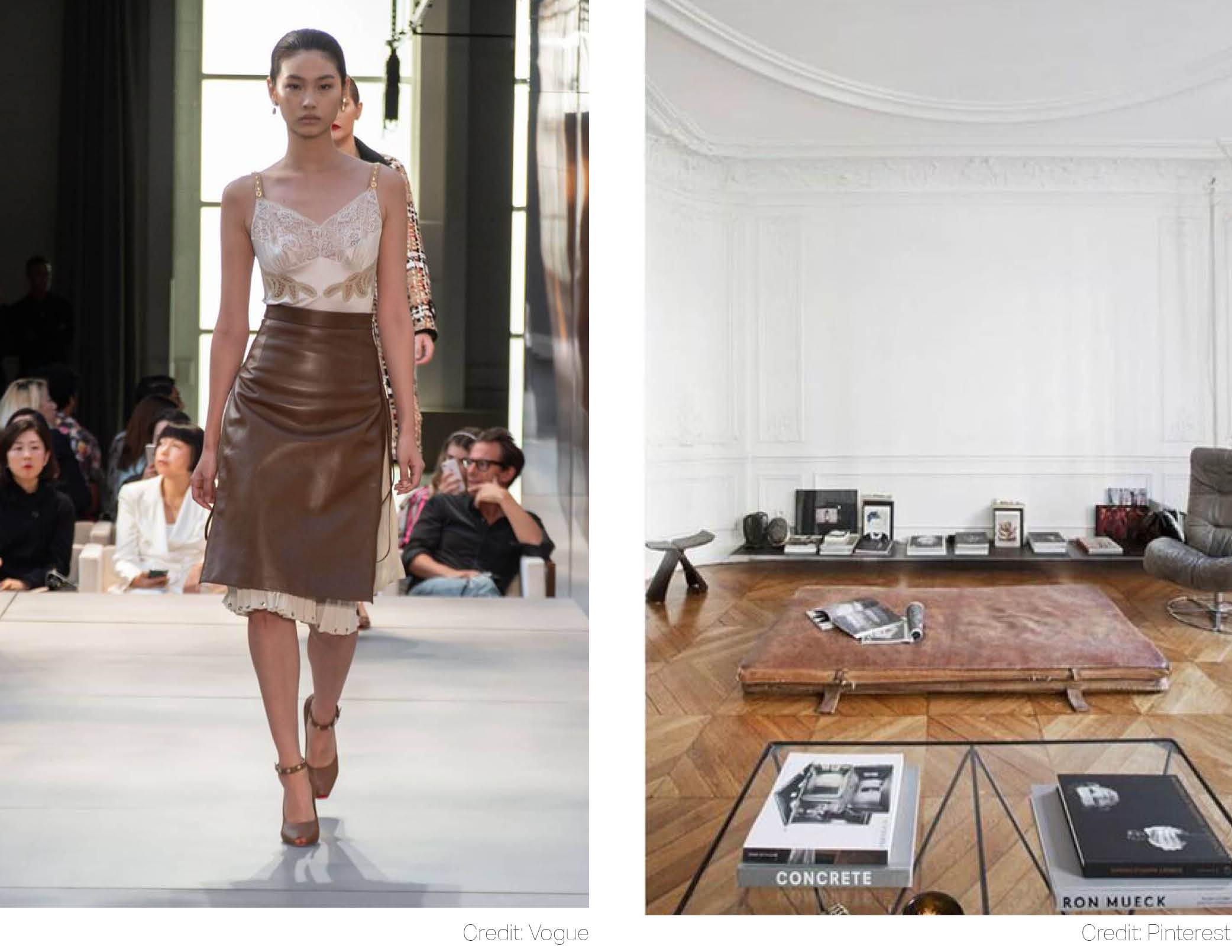 The refined was addressed first. Renowned for his sensual gothic aesthetic, Tisci surprised us with a distinctively neutral palette. Yes, it was muted, but with an edge. Camel, Chocolate and Bordeaux jazzed up the beige symphony. And so should we in our interiors. Scatter some camel-hued leather poufs or dark monochrome coffee table books around the neutral canvas of your room to achieve this feel of exacting sensuality.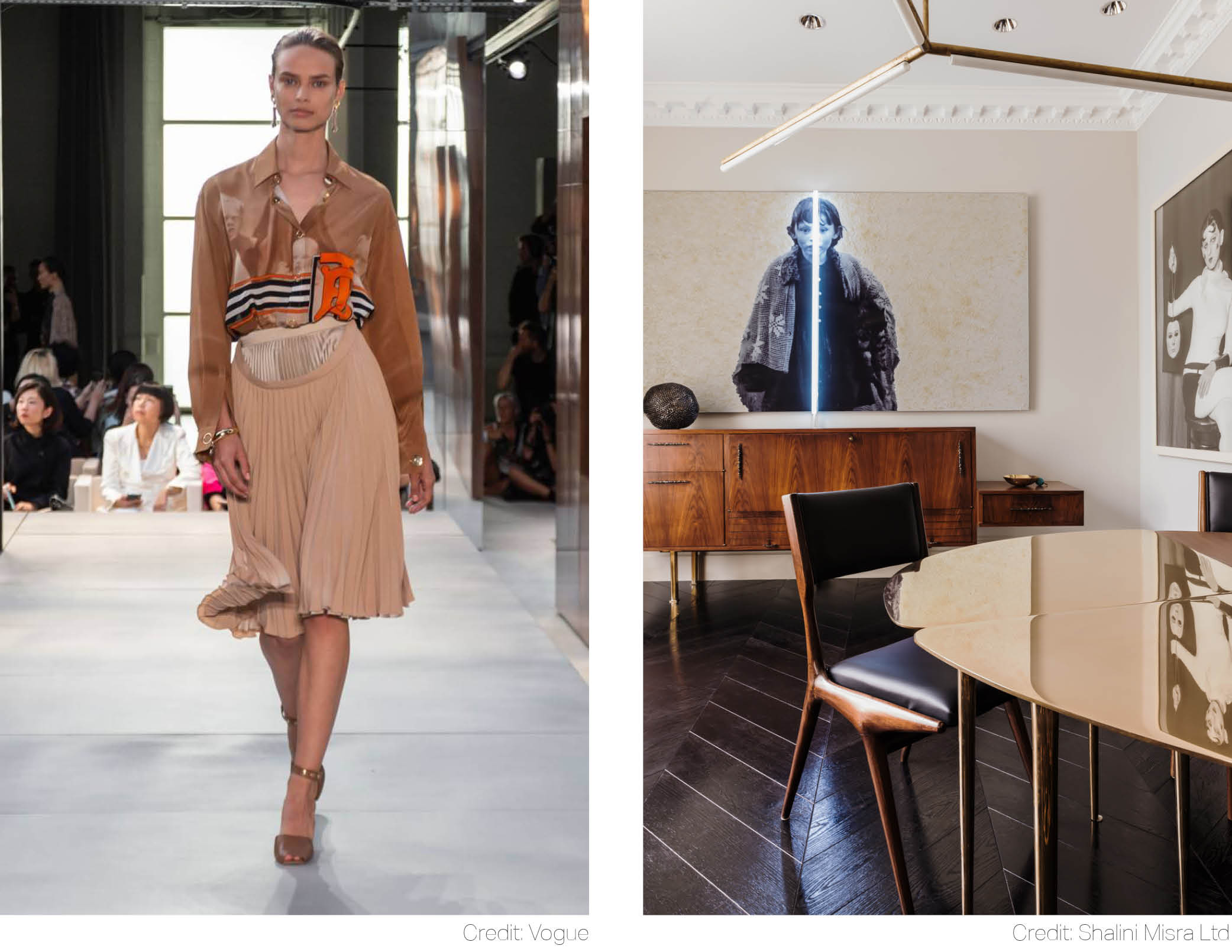 All too often, muted minimal aesthetic is misinterpreted as sparkless. This was certainly not the case at the Burberry show, and it shouldn't be in your home either. Precise black lines, gold accessories and rusty hues find reflection in the dynamic of this Chelsea dining room designed by Shalini Misra. Wood and neutral beiges have been accessorized here with sleek black vintage Carlo di Carli chairs and a solid bronze and mahogany modular dining table. Final touch – calk the rebellious portrait print from the Burberry shirt onto your wall to add a sense of nonconformity to your space.
2. Tom Ford
It was spring 2004, the zenith of his career, when Tom Ford unexpectedly left Gucci. The whole fashion world bellowed with lament. Fourteen years later the sense of nostalgia is still in the air as Ford resurrects old ghosts of 90's glamour on the New York catwalk. The coquettish slip dresses, lace-graced hems, lingerie-esque silks, satins and frills – all bathing in soft nudes and blushes – in short, a fond memory of Gucci's past days.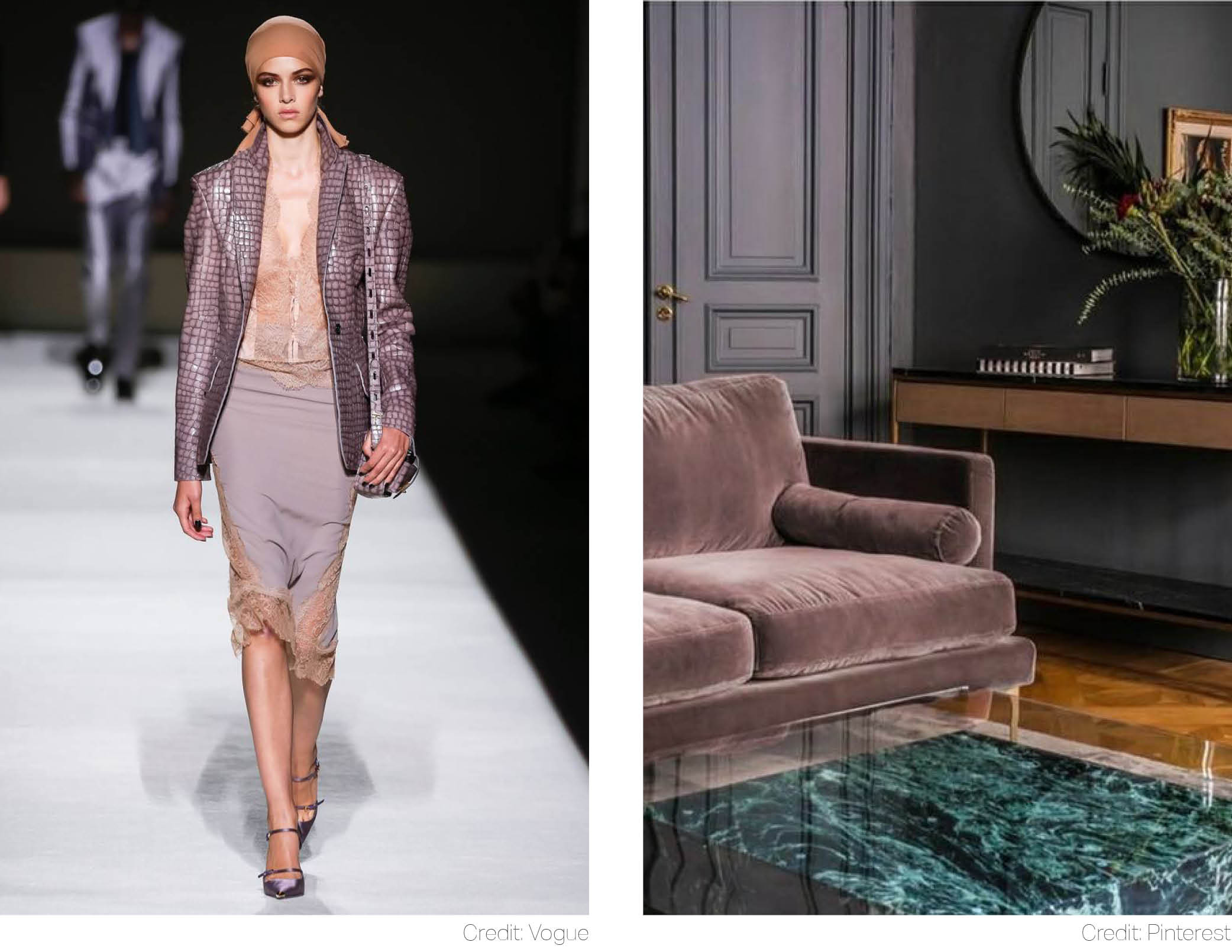 Ford reminded us that he "did not want to make clothes that were ironic or clever, but simply clothes that were beautiful." And beautiful indeed they are. Beautiful, and daring at times. After all, mauve patent crocodile, jazzy leopard and floor-length frills take some confidence to pull off. If you wish to take a stroll down memory lane of the past decades' glamour and sexiness, allow blush velvets to reign in your interiors side by side with statement sleek marbles. If you feel particularly bold, an ostrich feather lamp will make for flirtatious dazzle.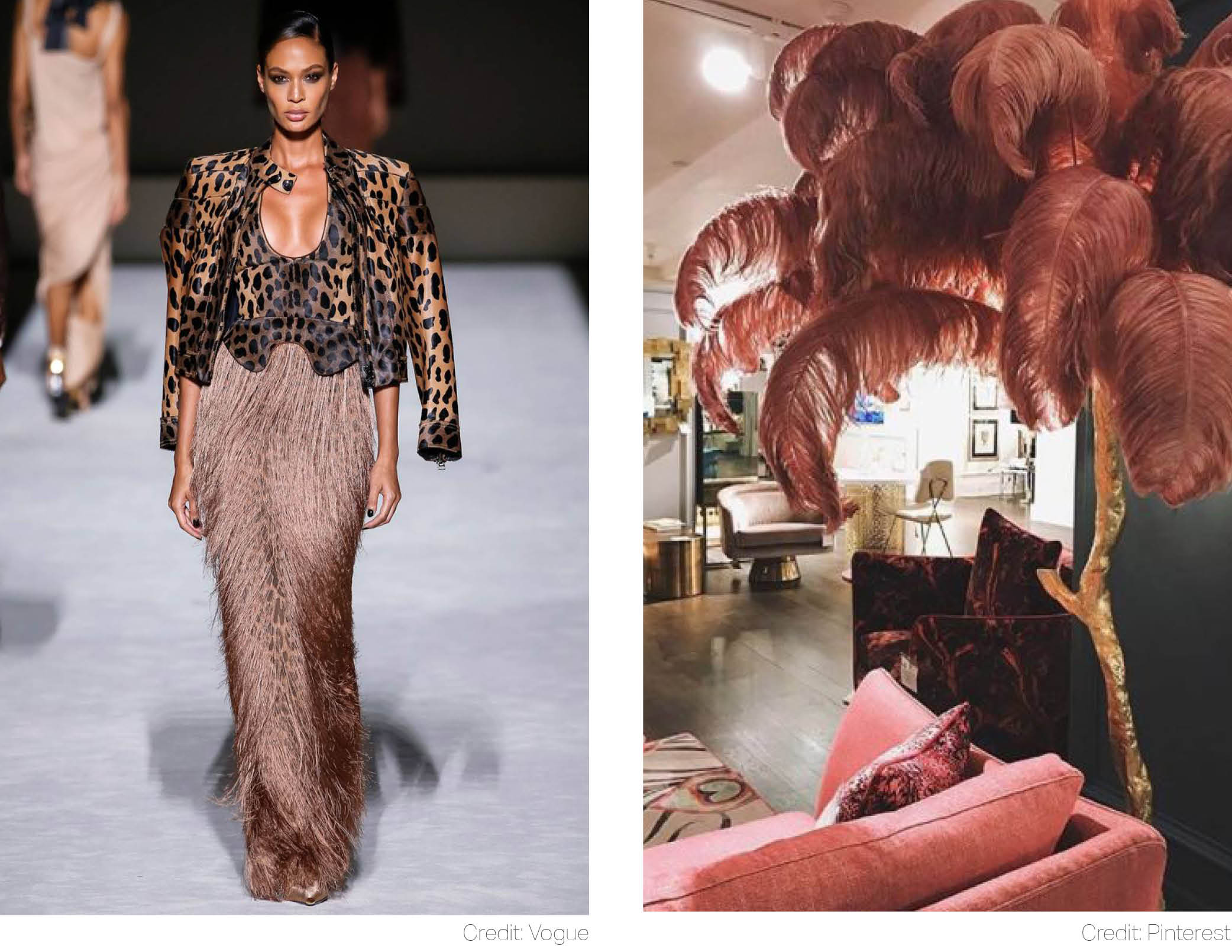 3. Proenza Schouler
This year Proenza Schouler's SS19 Collection was all about bleached denim and drop-waist cuts. The choice was not coincidental. After a short-lived fling with haute couture in Paris, Jack McCollough and Lazaro Hernandez decided to take the brand back to New York catwalks. And so, drama and gravitas, so distinctive in French cuts, were swept aside by "something that felt purely American". If you, too, crave a sense of freedom, replace denim tie-dyes and over-shirts with a new mural obsession – a washed-out dusk grey wallpaper that will breathe airiness into your interiors.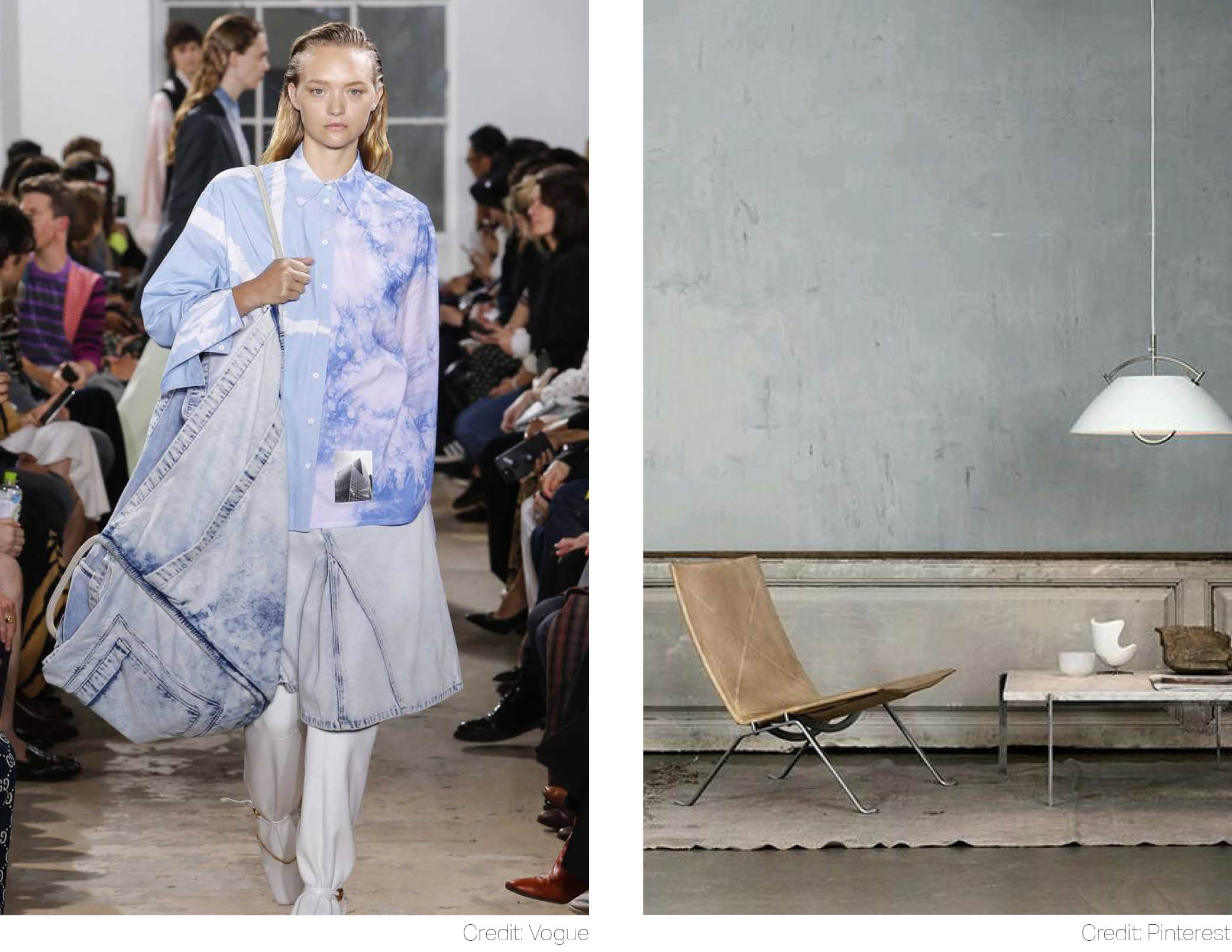 Cool breeze of denim's liberation is only skin deep? You may seek refuge in a warmer alternative – verdant green basking in the rays of sunny yellow speaks with more playfulness and optimism.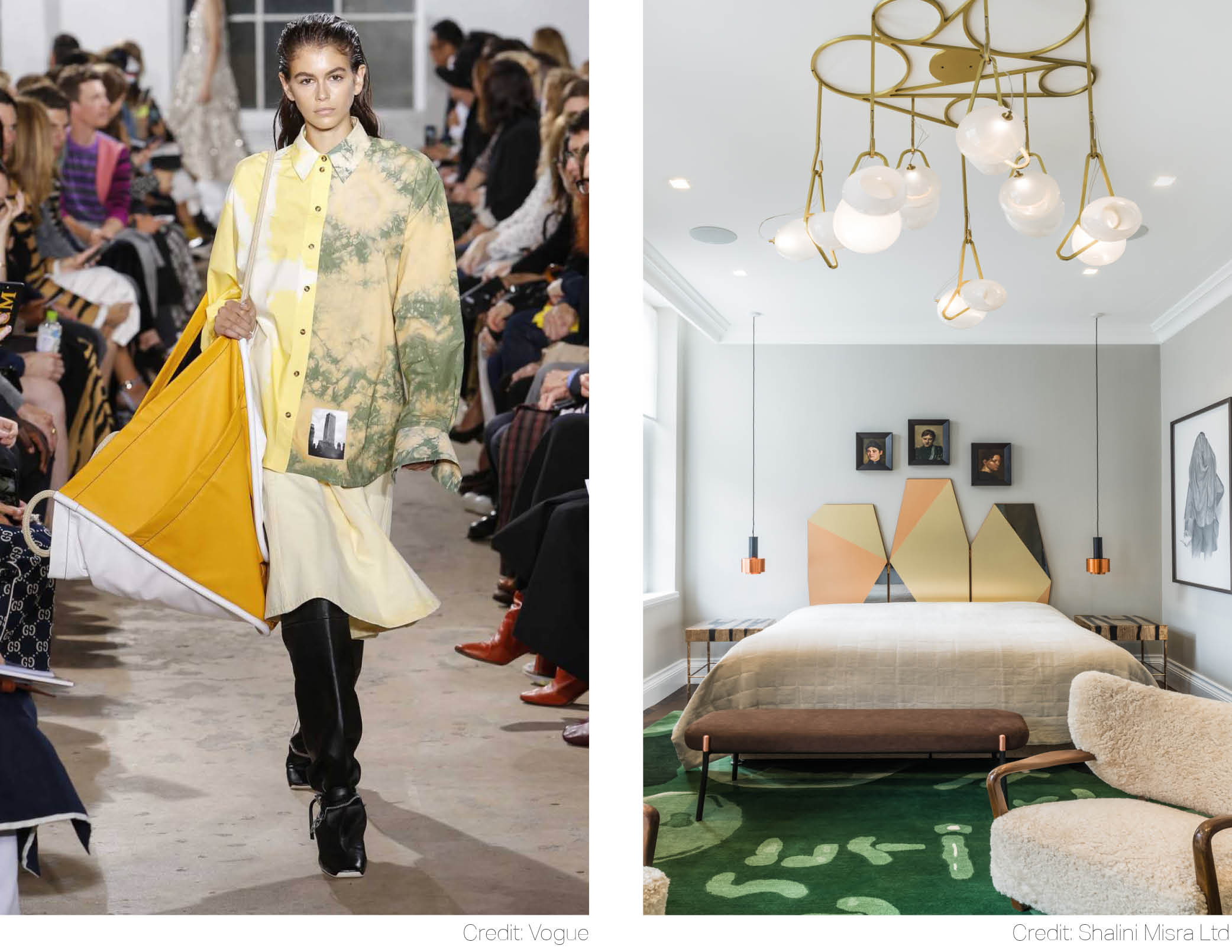 4. Anna Sui
The Beatles' "Lucy in the Sky With Diamonds" in the background, iridescent jumpsuits and sheer layering on the catwalk – enter the universe of Anna Sui, a quirky fairy godmother of the fashion world. In her SS19 Collection, she once again captured the magic of youth, optimism and lightheartedness. What the world, and most certainly our interiors, need these days is Sui's whimsical and dreamy sweetness. There is only one address in London that can make this wish come true – 112 Old Church Street. In the kingdom of de Gournay's divine mural craftsmanship, you will find the whole palette of paradise-inspired wallpapers. We fell in love with this serene choice from Shalini Misra's New York penthouse project: dusk grey, hand gilded, sterling silver metal leaf pattern. One look around and you may, as John Lennon once did, "picture yourself in a boat on a river, with tangerine trees and marmalade skies".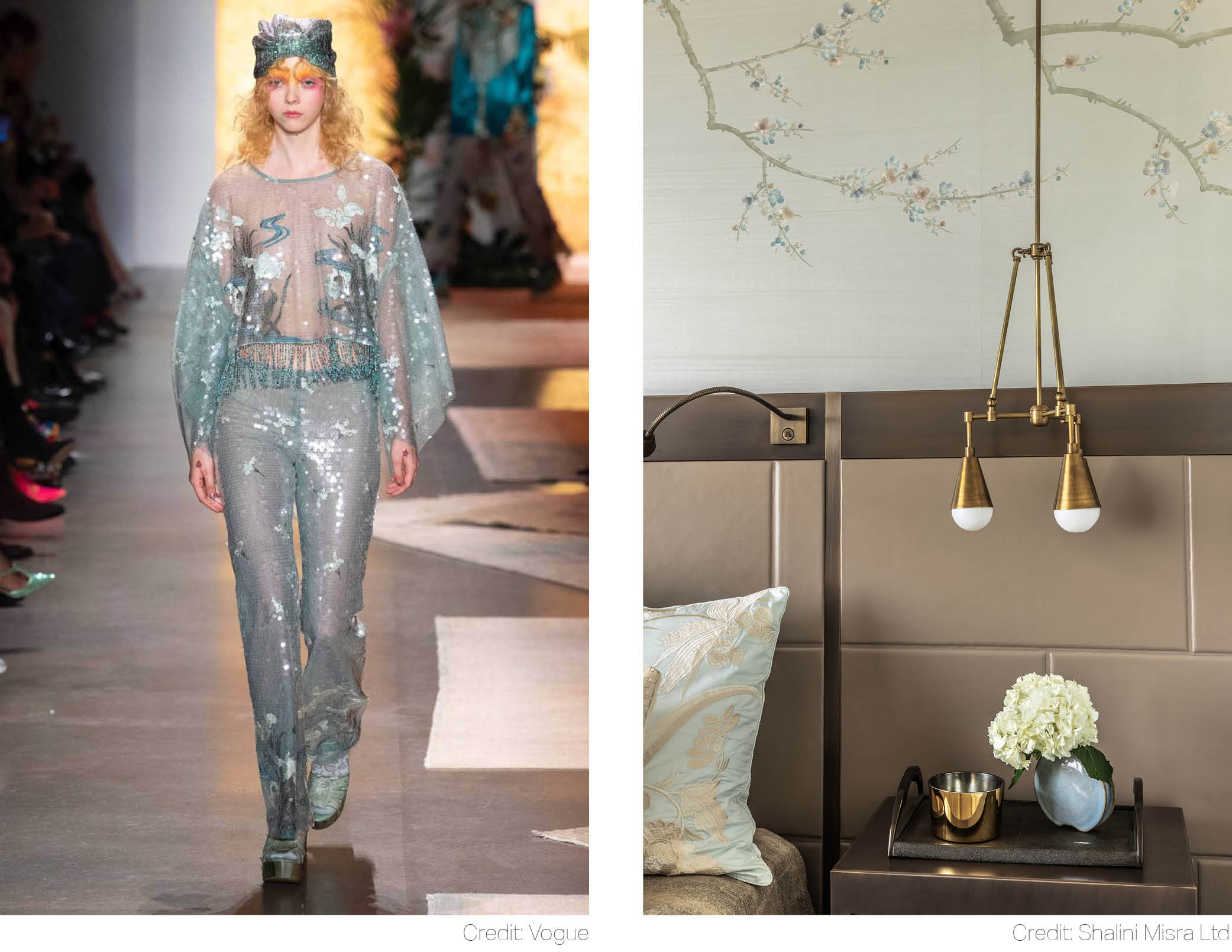 5. Ralph Lauren
Endowed with a power that is as grounding as it is hypnotic, Ralph Lauren's designs will always exude a sense of heritage. Now more than ever as the brand celebrates its fiftieth anniversary. Staged in the iconic Bethesda Terrance Tunnel in Central Park, Ralph Lauren's SS19 Collection paid homage to the longevity of the brand's vision. "That I know for sure is what is real, is what lasts. And we are here because you have lasted," summed up Oprah Winfrey in her speech at the dinner that followed the show. Yes, Ralph Lauren lasts and so does the appeal of its jewel-toned velvets.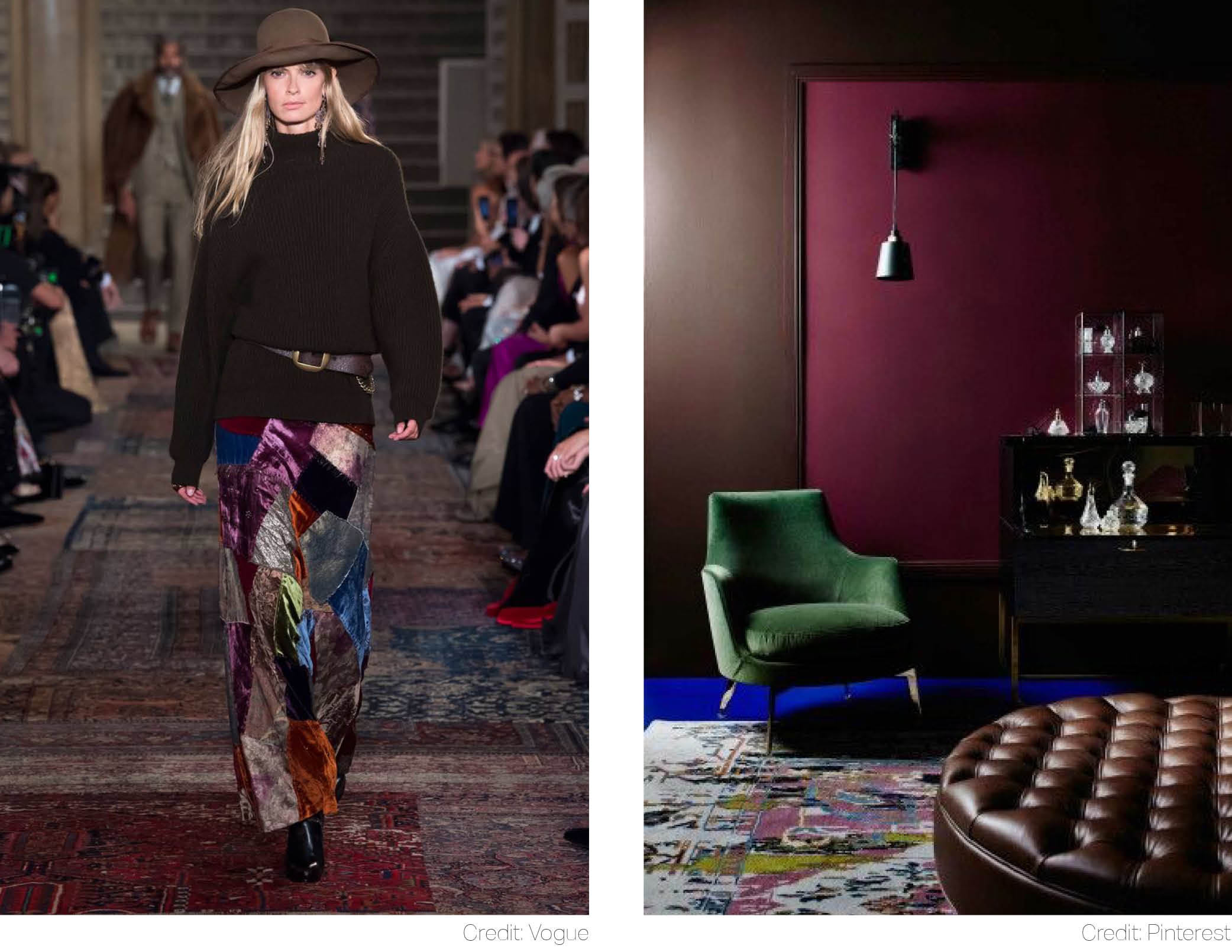 As winter looms, your interiors might need a dose of this musky heritage too. Set the walls in darker and more dramatic shades: mulberry or wine will certainly do the trick. To create the patchwork feel, contrast aromatic warmth of the walls with aloofness of emerald and sapphire velvet upholstery. Before you can sit back and take the first sip of your smoky whisky, you may need to add a dab of softness to the mix: some leather finishes or a tattered Persian rug will certainly work.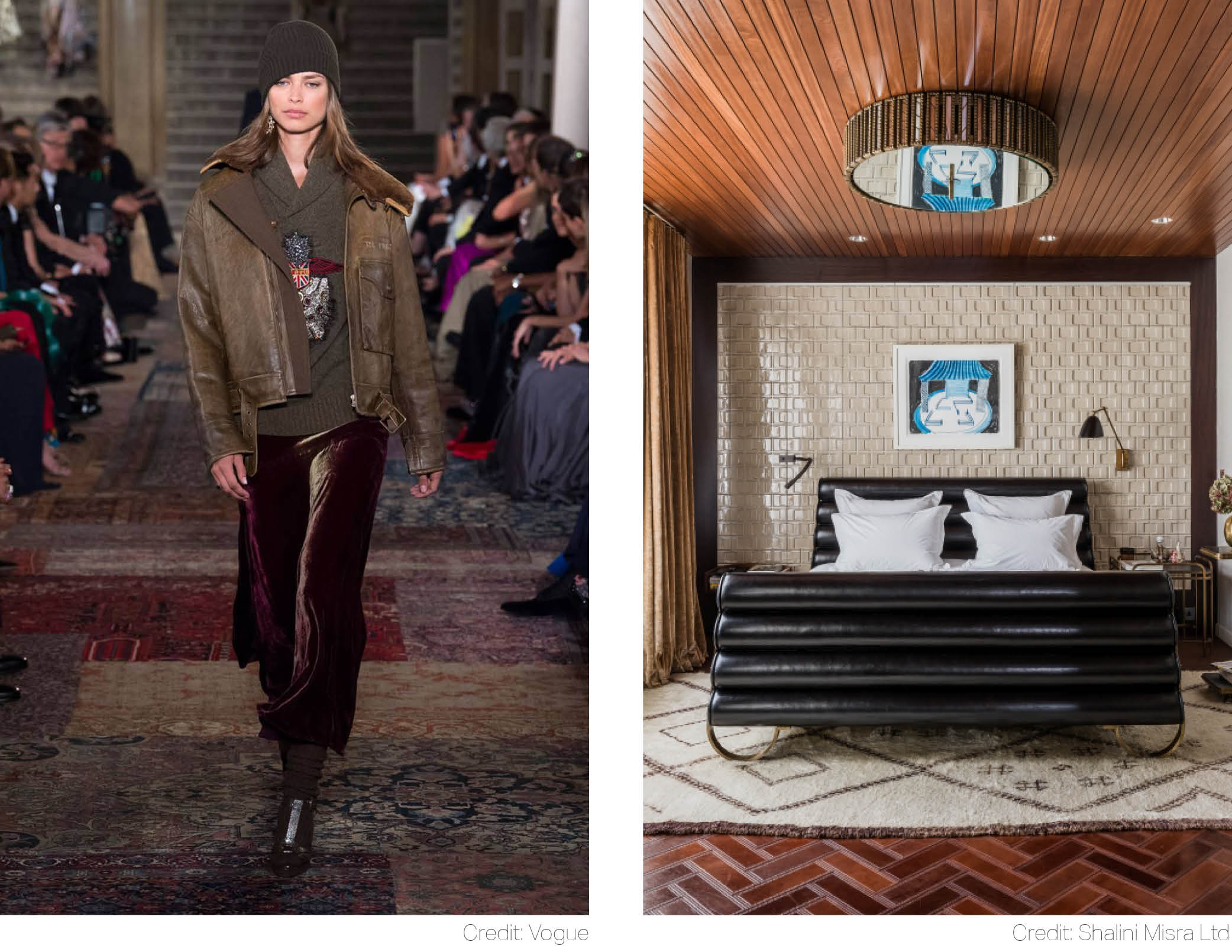 Leather is not always easy to style but it certainly is at the heart of Ralph Lauren's iconic vision. When approaching the art of leather layering you may need to think like a gourmet chef – you want to infuse just the right amount of chocolate richness into your cake before the vibrancy of spices can be added. This Chelsea bedroom can serve as an amuse-bouche for those who are new to the art of leather crafting. Chocolate brown headboard couldn't be more delectable than in the company of handcrafted leather flooring set in spices brown.
6. Marta Jakubowski
Last, but most certainly not least, neon has celebrated a real come back this year. Marta Jakubowski, a relatively new name in the industry, played with fluorescent blues, greens and pinks to laser cut straight to the very heart of modern quirkiness. Are you tempted to replicate her minimalist, hallucinogenic aesthetic in your interiors? Here is a dare – a transparent lime green statement chair.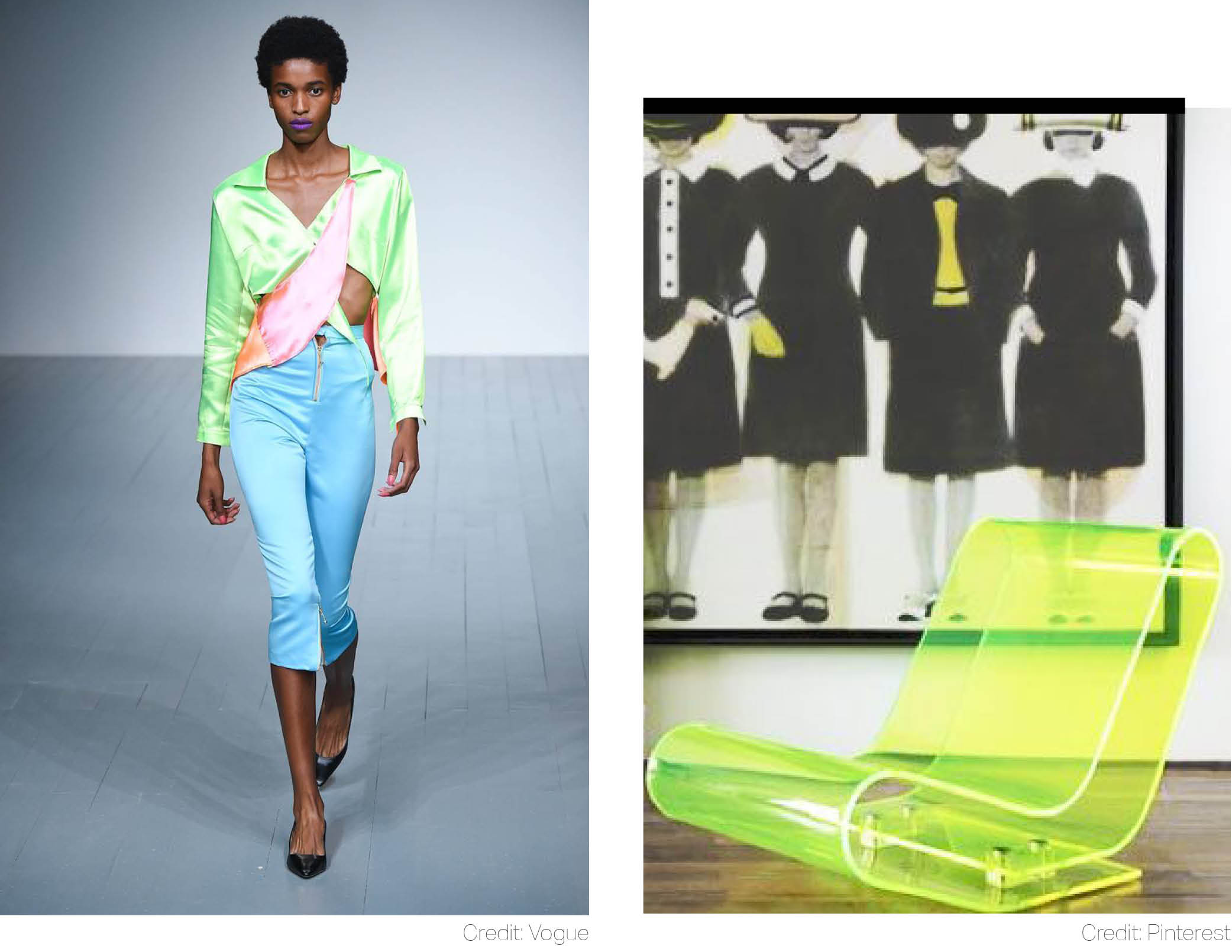 Too early to go all loud and proud? Perhaps a sleek and sexy neon light can do the trick. Still unconvinced? A paint on powder-coated aluminum piece by Kate MacGarry is an even more subtle solution.