Modernist architecture evolved in the early 20th century but came to prominence in the UK between the 1930s and 1970s. Pioneered by Walter Gropius and Le Corbusier, modernist houses emphasised functional design, with form taking a backseat in terms of design priorities. As such, asymmetrical compositions and linear elements are common features of modernist architecture and are routinely seen on homes built in this era.
Another important feature of modernist homes is the lack of decoration injected into the architecture itself. This architectural era favoured minimalism and functionality, rather than ornamental features, and this is reflected in both residential and commercial buildings.
If you live in a home built between 1930 and 1970, there's a good chance that you're residing in a 'modern house'. By understanding the ethos behind the modernist architecture that shapes your living space, you can enhance the interior and showcase your property's best features. With this in mind, take a look at these top tips on decorating modern houses:
1. Make the Most of Natural Light
Allowing natural light to flow into a building instantly illuminates the area and can add a feeling of warmth to a space. While many homeowners dream of having larger windows and more natural light, modernist homes are well-equipped to maximise the flow of light. In fact, designers often prioritised natural light during this era, which means you're likely to have well-positioned windows that allow you to illuminate rooms with natural sunlight.
Of course, you'll want to make the most of this aspect of the design. While the design elements used throughout the modernist period could lead to some interiors feeling cold or stark, the addition of natural light can make a home feel more welcoming and inviting.
When choosing window treatments, be sure to select options that won't block or limit the amount of light that can flow into a room. Instead, opt for sheer blinds, voile curtains, or shutters that can be easily adjusted to make the most of this stunning natural feature.
2. Adjust the Layout
Given that architects were primarily focused on function when designing modernist homes, they aren't always the biggest spaces. In fact, many properties built in this period are relatively compact. However, the modernist movement did favour open-plan spaces, which means there are typically plenty of opportunities to modify the layout to suit your needs.
If the property has since been updated, it should be relatively easy to remove non-supporting walls and return it to an open-plan layout. By doing so, you can maximise the space and find innovative ways to make your home feel larger than it really is.
Using decorative screens, like the Kam Ce Kam Divaar Timber and Cane Room Divider, to segment the space can be a fantastic way to create a multi-functional open-plan living space that suits your needs, for example.
When you embrace open plan living, you don't just make the best use of the space that's available; you also optimise flow throughout the property. This ensures your interior design carries through the property and connects each aspect of your home. By increasing connectivity and ensuring that each part of your home is well-integrated, you can transform how the space feels as a whole.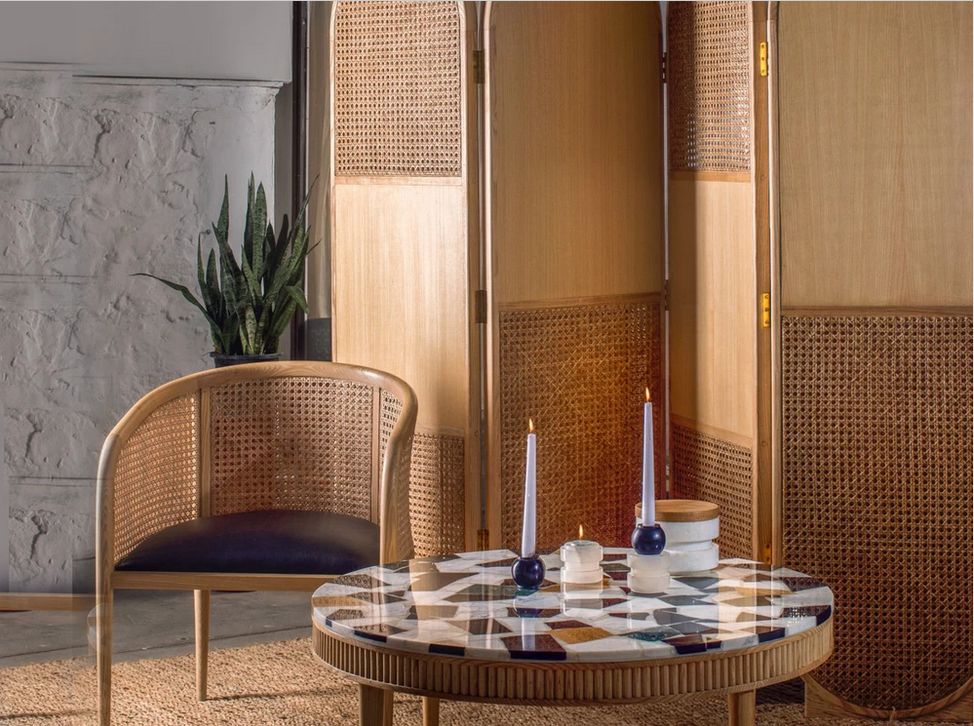 Credit:  Kam Ce Kam Divaar Timber and Cane Room Divider
3. Reflect the Exterior with Interior Style
Choosing an interior style that complements the building's architecture is always the most effective way to showcase a property at its best. When it comes to modernist homes, minimalist interiors are the ideal way to reflect the property's functional aesthetic.
Architects routinely used modern materials to create buildings during this time period, so you may find that your home is endowed with reinforced concrete, steel frames, or ribbon windows. If you want to continue this theme, look for décor and styles that allow you to incorporate additional modern materials, such as metals, wood, and glass.
Inside modern homes, you're likely to find clean lines and seemingly simple dimensions. Rooms are more likely to be uniform in shape and there will be a notable absence of decorative features, such as alcoves. To decorate modern homes in keeping with their original design, opt for minimalist styles and avoid unnecessary clutter.
The Lisola Sofa by Hommes Studio or the Kelly Dining Table by Laskasas are spectacular examples of minimalist-inspired pieces that can adorn a property and add home comforts without saturating a space.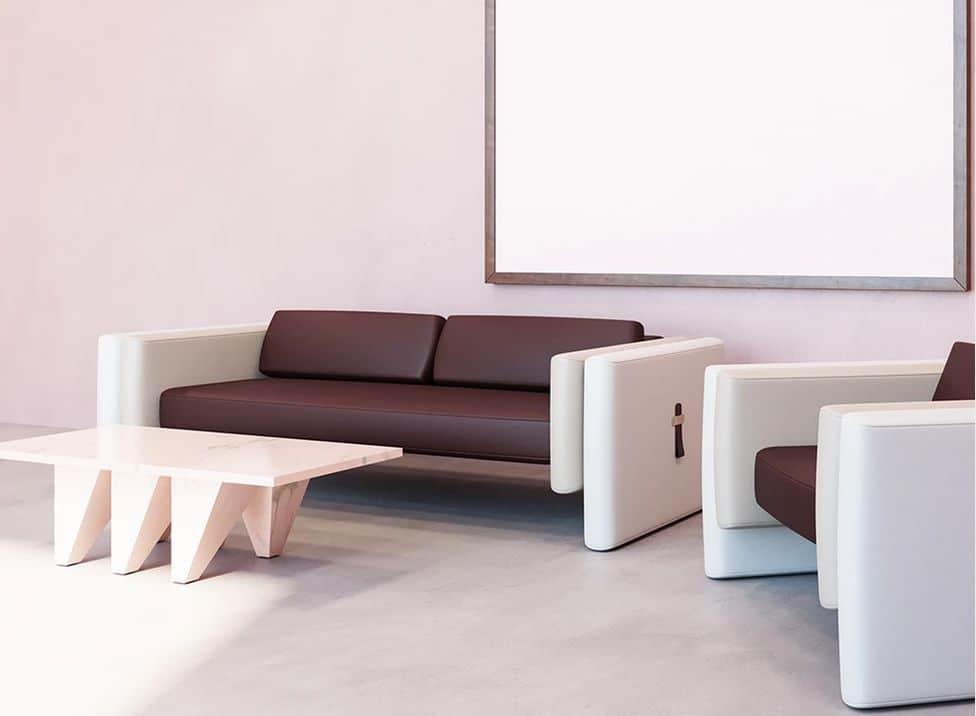 Credit : Lisola Sofa by Hommes Studio
4. Add Character to the Space
Due to the emphasis of function over form in modernist architecture, many people find that modern homes seem to lack character. In reality, however, they're a blank canvas that can be developed, decorated, and enhanced in any way you choose. By taking the opportunity to inject character into a modernist building, you can create a home that truly reflects your personality and lifestyle.
While minimalist styling and modernist architecture may not lend themselves to intricate décor or overly ornamental additions, there are ways to decorate your home, add character, and retain the property's original design features.
Wall décor can inject warmth and character without adding clutter to your home, for example. The Forest Leaves Wall Décor by Studio Peascod is an excellent example of unobtrusive art that makes a big impact. What's more – the use of Japanese washi papers, high carat gold leaf, glass, polychromes, and brass ensures that the materials featured are perfectly suited to a modern home.
In addition to this, incorporating a range of textures into your décor can add character to your home. From high-quality wool and silk rugs, like the Galena Hand Knotted Rug by Hands Carpets, to soft yarn in the Ambar Braided Throw by Ambar Living and the velvet, faux leather, and metal detailing of the Gaga II Cushion from the ACH Collection, there are endless ways to incorporate a multitude of textures into your décor.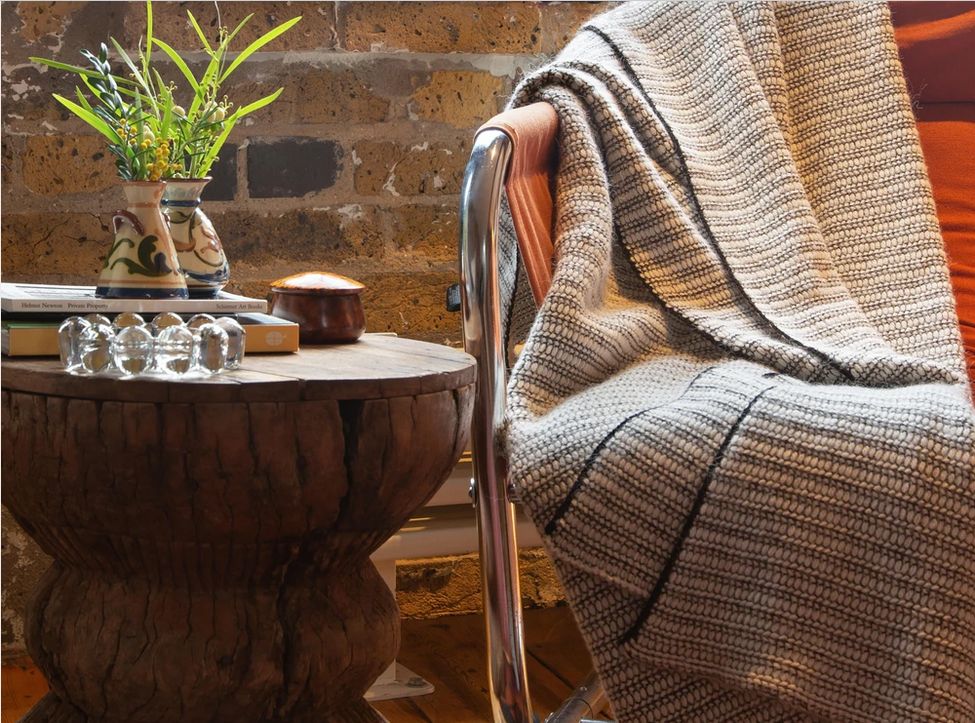 Credit : Ambar Braided Throw by Ambar Living
Restyling a Modern Home
At first glance, modern homes can seem hard to decorate, particularly if you're unsure how to make the most of the space. However, the principles that dominated modernist architecture provide you with a useful guideline to follow. By echoing the design of the building itself, you can showcase its best features and transform the interior into a home that reflects its origins, your personality, and your lifestyle.