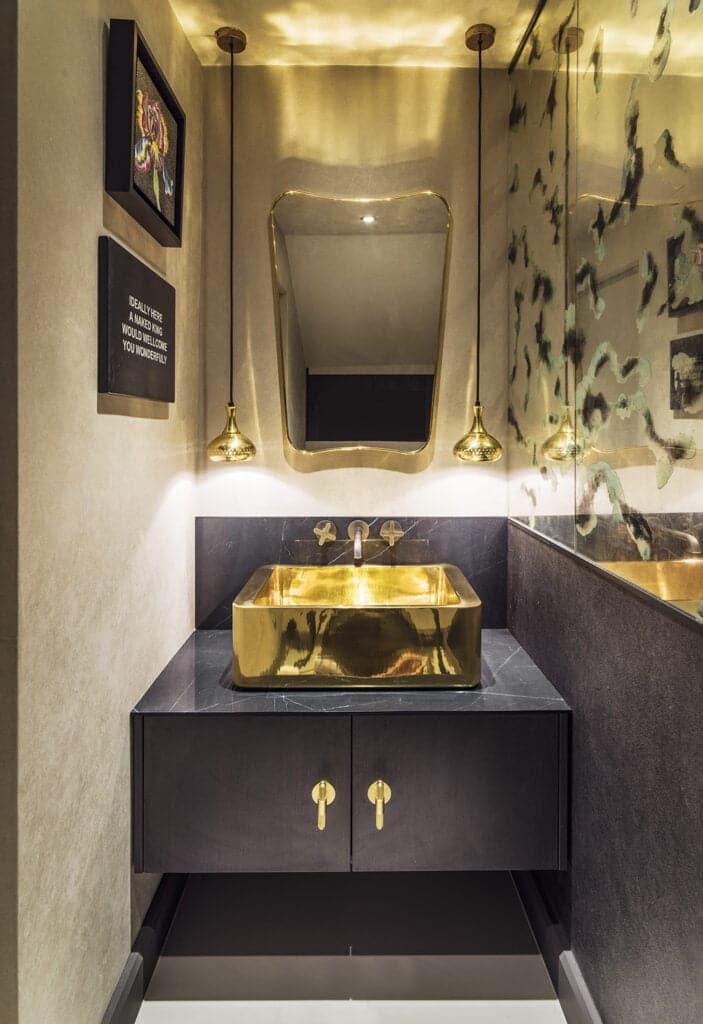 When you're designing bathrooms, you have free rein to create a luxurious and decadent environment, yet many people automatically opt for white and neutral shades. Fortunately, we're seeing a whole new trend of dark bathrooms emerging and we couldn't be happier! When you stray from the standard bathroom designs you see out there, you'll soon realise why doing something a little different with the space can deliver such sublime results.
To plan your own bathroom redesign, refresh, or renovation, take a look at these nine ways to incorporate dark bathroom ideas into your plans:
1. Use More Than One Colour
A single dark colour can feel too overpowering but incorporating two colours into the theme instantly makes the room feel more spacious. Interestingly, you don't need to pair a dark colour with a light shade to achieve this effect. Instead, choose two dark colours that share the same tone to complement each other. With grey-blue paint on the upper section of the walls and deep grey tiles on the lower sections, for example, you can add visual interest and maintain a dark, dramatic style.
2. Add Brightness with Metallics
A dark bathroom needn't feel dull or drab, particularly if you use metallic accessories to add brightness to the space. The lustre and luminosity of metallics will ensure the accessories you choose are eye-catching and they'll serve to make the room feel lighter too. For cooler tones, opt for silver, nickel, or platinum but, if you favour a warm feel, choose bronze, gold, or copper.
Remember – metallics aren't just ideal for accessories, like mirrors, lighting, and decorative pieces; they're also a great option for bathroom fixtures and fittings. A brushed metal countertop basin or a polished copper bath can act as a statement feature while making dark bathrooms pop.

3. Incorporate Bold Patterns
Relying solely on solid colours can be uninspiring, so why not add visual interest to your space with bold patterns? From tiles and wallpaper to blinds and screens, there are a variety of ways you can inject patterns into a dark bathroom. Whether you complement a dark palette with lighter tones or stick to moody shades, a pattern will lift the atmosphere and can add a sense of fun, glamour, or relaxation.

4. Maximise Natural Light
Every room can benefit from an abundance of natural light, but this isn't always available in bathrooms. To maximise privacy, most bathrooms have small windows or are fitted with opaque glass that prevents natural light from filtering through and illuminating the room. However, you can increase the amount of natural light by using mirrors strategically.
Mirrors obviously have a functional purpose, but don't select a piece based solely on its use. Instead, choose a large mirror that will reflect a large amount of light and illuminate the room effectively. Similarly, place the mirror in a location that will allow it to reflect a significant amount of natural light from any windows that are present.
5. Use Marble for a Spa-Like Environment
If you want to create a sense of luxury in a dark bathroom, opt for marble features and accessories. A marble countertop can be a great alternative to a sink unit, for example, while marble effect tiles will break up dark colours and add visual interest to your design.
Marble is commonly associated with elegance and decadence, which is why it it's the perfect addition to a bathroom environment. You can create a relaxation, spa-like feel in any home when you use marble to add a touch of opulence. What's more – black, grey, or green marble will complement a dark colour scheme, while cream, natural of white will add contrast.
6. Add Natural Materials
When it comes to bathroom furniture and accessories, natural materials can enhance your design and optimise your well-being. By surrounding yourself with natural materials, like wood and cotton, you can increase the sustainability of your home and add textural depth to your design. Terracotta, wood, stone, and seagrass are all popular options, but make sure that any pieces you choose are designed to withstand the increased moisture and humidity that's present in a bathroom.
7. Use Layered Lighting
Lighting is important in any room and the bathroom is no different. Why settle for a single lighting option when you can use layered lighting to create a multitude of different environments? Spotlights on the ceiling can provide a clean, bright feel, for example, while soft, recessed lighting offers a more relaxing feel that's perfect when you're enjoying a long soak in the tub. Again, make sure that the lighting you choose is designed for bathrooms and meets the regulatory standards for high-moisture areas.
8. Complement Dark Tones with Accent Colours
If you love the style of a dark bathroom but you're wary of going too dark, use an accent colour to temper the effect. Bright colours look spectacular with dark greys, for example, while deep, dusky pinks, light beige or teal can look sensational with black. If in doubt, pair dark colours, like navy blue or emerald green, with white accents for a clean, crisp and stylish feel.
9. Add Patterns with Tiles
Incorporating a pattern into your bathroom draws the eye and creates a feature out of a functional element of your design. However, you needn't choose tiles and wallpaper that's adorned with a pattern to achieve the effect. Instead, choose a tiling application that offers an interesting pattern and turn it into a feature in your new, dark bathroom. A running bond or offset layout gives a clean and classic look, for example, while herringbone tiles will add a sense of traditional elegance. Alternatively, try a stacked vertical layout if you want to emphasise the height of the room, or a brickwork pattern if you want to achieve a more modern, industrial feel.
Designing Dark Bathrooms
While using a dark colour palette in bathrooms can feel nerve-racking at first, it's an easy way to add sophistication and glamour to a functional space. From cool jet black or eggplant to navy blue, burgundy or forest green, there are endless shades, tones and hues that can be used to create a dark, dramatic, and delectable bathroom.