If you're working from home, running a business, or simply advancing your career, a home office is essential. However, incorporating a workspace into your living environment needn't have a negative impact on your interior design. With the right pieces and styling, an office can be an integral element of your home and one that enhances the space.
To ensure you have a productive and luxurious space to work from, take a look at these top tips and get all the home office inspiration you need to update your work space and transform your professional life:
1. Choose Minimalist Furniture to Maximise Space
If you want to create a home office while making a particular room or space, feel larger, select minimalist furniture. This will provide the functionality you need and complement any style of room, without overpowering the space. You don't have to use standard office furniture when you're designing a personalised workspace at home. By thinking outside the box and using alternative seating, for example, you can move away from traditional office styling and establish a home office that's more akin to the interior design you've chosen for your home.
The Bijou Seat by Scarlet Splendour is a perfect example of minimalist seating that can be used to enhance a home office environment. When paired with the Woman in Paris dressing table, you can even create a multi-purpose workspace that's compact and chic. Ideal as a statement piece in a home office or as a workspace in a shared living space, you can ensure you have the resources you need without compromising on style.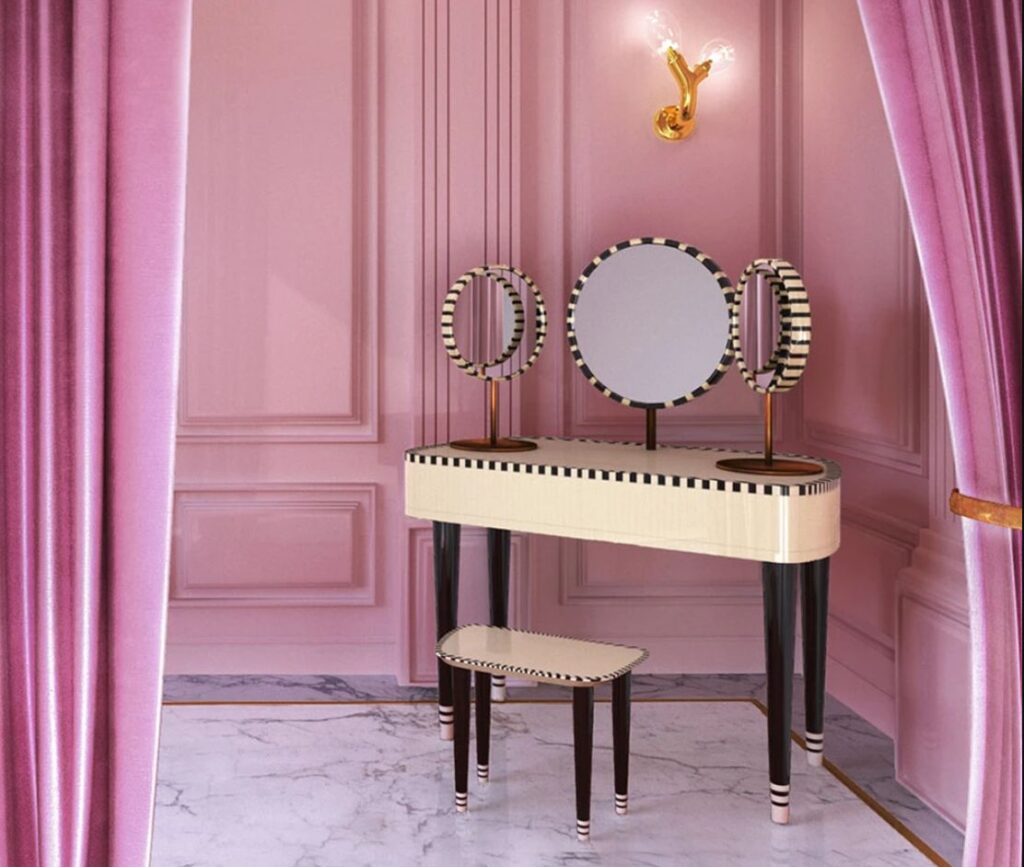 Bijou Seat – Delightful and minimalist in every French style home office concept.
2. Spend Time Finding the Right Desk
Your desk is the powerhouse of your home office, so it's worth taking the time to find the right piece. The nature of your work will determine the functionality you need and, therefore, the appropriate size. If you regularly use multiple screens, for example, you may require a larger desk that provides you with extra space for hardware. Alternatively, if you can work using just a laptop or tablet, a more compact desk might be suitable.
If you need a relatively large desk to make working from home easier, don't assume that your office furniture needs to be aesthetically overpowering. On the contrary, a minimalist-inspired desk can provide you with the functionality and the visual impact you crave.
The Dara Desk by Laskasas is a stunning example of what you can achieve when you combine chic styling with luxury home office furniture. With a matte smoked old oak finish copper polished stainless-steel finish and sleek lines, the Dara Desk can enhance any home office environment without overcrowding the space. What's more – its generous specifications ensure it maximises functionality and provides all the space you need to climb the career ladder while working from home.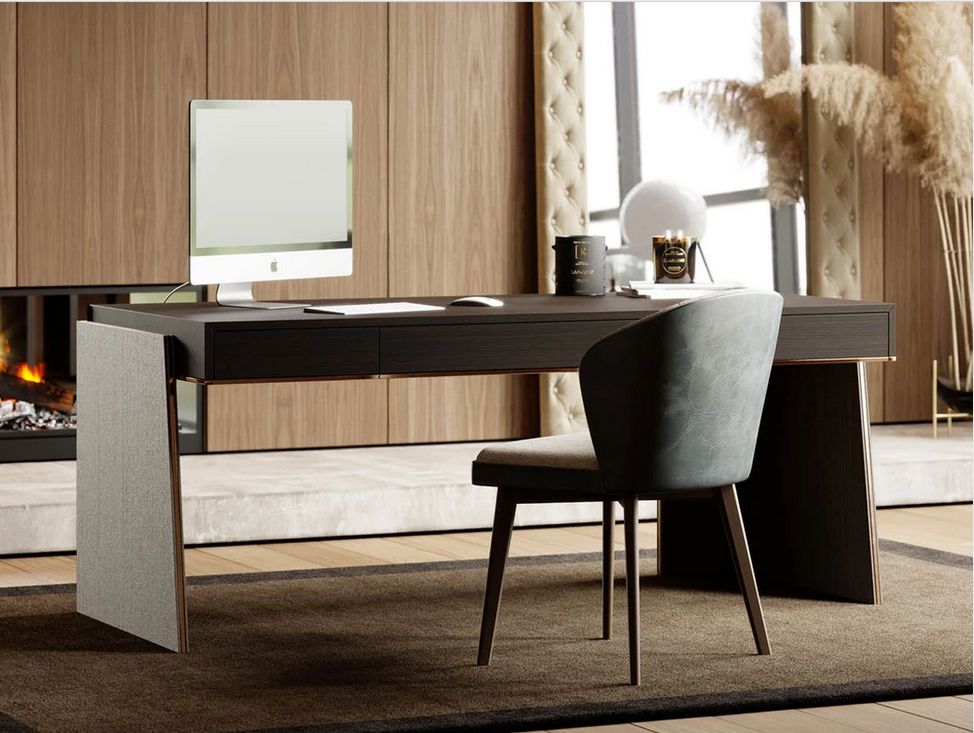 Dara Desk offers a minimalist touch with the use of noble materials.
3. Make a Statement with Shelving
Incorporating a statement feature can bring any room to life and this is true for luxury home offices too. When you identify the space or area that you want to emphasise, you can determine how best to bring it to life and showcase its benefits. Of course, the purpose of a room or designated space must always be at the forefront of your mind when you're designing an interior. In a home office, the need for storage space, resources, and inspiration should be a critical factor in determining how to use statement furniture.
Fortunately, shelving is the ideal solution for homeowners who want to integrate a professional office environment into their living space. With the potential to increase the functionality of the space and provide you with additional storage space, incorporating shelving into a home office can streamline your workflows and maximise productivity.
However, the benefits don't stop there. When you add shelving to your home office, you can elevate the design of the space and unify the aesthetic. Whether you're planning a contemporary home office, an industrial workstation, or a traditional workspace, the right shelving can bring the design together in an instant.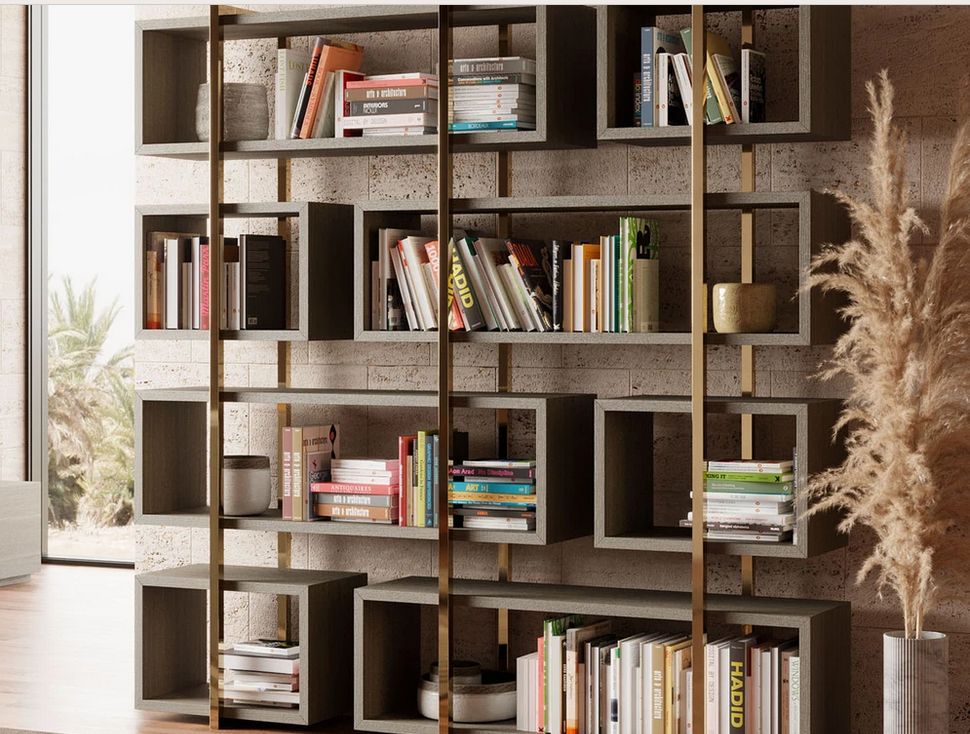 Praga bookshelf is a statement mid-century bookshelf for glamour lovers
4. Prioritise Office Lighting
Lighting has a significant impact on any space, so be sure to consider how to use fixtures and fittings in your home office to complement the interior design. Many people make the mistake of choosing lighting after a room has been designed or even decorated but this means you miss out on the opportunity to integrate lighting into your design. From bright and bold illumination to a warm glow, prioritising lighting at every stage of your interior design ensures it contributes to the room's style, rather than detracting from it.
A statement ceiling light hanging atop your desk instantly elevates the space and transforms it into a hub of professional activity, for example. By choosing lighting that combines presence with softness, however, you can ensure that it strikes the right balance between work and home life. The custom-made Arcturus Pendant Light by Graypants highlights this perfectly and shows how easy it is to create a multi-purpose space at home that is well-suited to both professional and family life.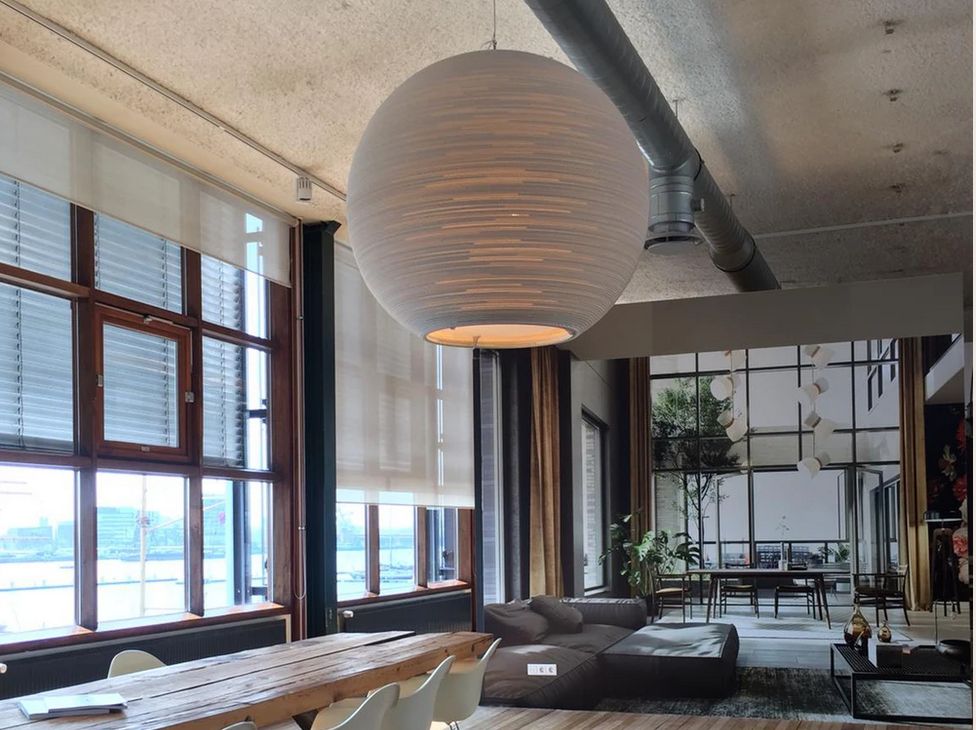 Arcturus Pendant White provides warm, intimate, and functional lighting for any occasion or space.
Designing a Luxury Home Office
With this range of home office inspiration, you've got a glimpse of how to design a stunning workspace that meets your needs while enhancing your living environment. While it can be tricky to combine home and work life, adding a new dimension to your home and updating its design to reflect the changes in your lifestyle will ensure it becomes a space that inspires and motivates you.
The transition towards more flexible working means that an increasing number of people want to create permanent workspaces in their homes, and with the right inspiration, you too can design a luxury home office that maximises space, elevates your interior, and optimises functionality.