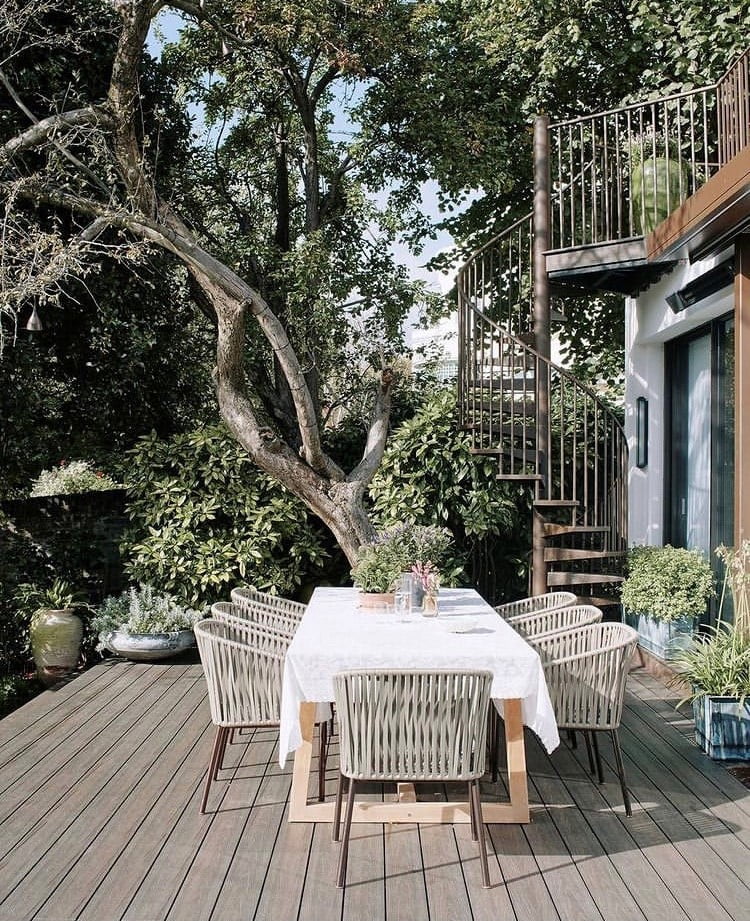 A garden allows you to enjoy your own, private outdoor haven, so it's vital to make the most of it. By incorporating an outdoor living space, you can increase the versatility of your garden and make it even more functional. However, turning your garden into another room is about much more than simply incorporating outdoor furniture or spending a few hours in the sunshine. To find out how to design outdoor living space, take a look at these top tips now:
1. Split Your Garden into Zones
Depending on the amount of space you have available, splitting your garden into zones can be the best way to transform it into a multipurpose environment. You may choose to use some of your garden as an outdoor living space, another area as a place for homegrown fruits and vegetables, and a separate space for a rolling lawn or play area for younger members of your family.
By considering all the different ways in which you plan to use your garden, you can decide whether splitting into designating zones is the most effective way to carve out an outdoor living space. While these zones needn't be distinct in design or have clear boundaries surrounding them, they can help you to identify your goals and priorities throughout the design phase.
2. Create a Multi-Level Space
Having a multi-level garden adds excitement and intrigue in an instant, which means it's a great way to design an outdoor living space. If your garden isn't on one level, trying to flatten it can be a costly, time-consuming, and ultimately futile task. By using retaining walls and designing steps, stairways and slopes, however, you can take advantage of a multi-level garden and use it as the basis of your outdoor living space.
Of course, you don't have to miss out if your garden happens to be flat and even. With a little landscaping, you can create your very own multi-level outdoor idyll too. Earth can be added to incorporate different layers into your garden, for example, or patios and decks can be raised to achieve a multi-level aesthetic.
3. Combine Hard and Soft Landscaping
Both hard and soft landscaping can be used in a garden environment but combining them enables you to achieve a balance between the different elements. Paving over a large proportion of your garden to create a large patio might leave the space feeling devoid of nature, for example. However, filling the space with blooming potted plants and using climbing flowers as a backdrop helps to balance the hard landscaping of the patio with the soft landscaping of the plants, flowers, and shrubs.
When you're looking for outdoor living room ideas, remember that you're likely to use a selection of furniture in the new space. This can enhance the visual impact of hard landscaping, so be sure to balance this with plants, trees, and shrubs to create a tranquil environment and stabilise the aesthetic.
4. Evoke All of the Senses
There's no doubt that you'll want to create a visual impact with your outdoor living space, but why stop there? When it comes to outdoor living room ideas, aim to evoke all of the senses with the features and design themes you choose.
Installing a water feature ensures you can listen to the rippling water as you relax in your garden, for example, while planting fragrant herbs and plants, such as lavender or lilacs, means you'll be surrounded by enticing aromas every time you step outside.
Similarly, using a range of textures in your outdoor living space can add depth to your design but it also satisfies your sense of touch. From the fabric you choose for outdoor seating to the materials used in sculptures, there are a variety of ways to ensure your new outdoor living space evokes the senses.
5. Extend Your Home
Once you know how to design an outdoor living space, you have the potential to extend your home, but not in the way you might think. This doesn't involve obtaining planning permission or constructing extra walls and ceilings but rather extending the interior of your home into the great outdoors.
When your outdoor living space continues the flow and feel of your interior design, you enhance the sense of fluidity that should already be present in your property. Not only does this cater to your personal style and tastes but it also allows you to create an outdoor living space that perfectly complements the interior of your home.
By using bifold, trifold, and sliding doors or panoramic windows, you can blur the lines between indoors and outdoors even more, and create a stunning, versatile space.
6. Think About Practicalities
An outdoor living space should enable you to spend more time in your garden, but you'll want to ensure you have the practicalities in place if you're going to make the most of the space. This might mean extending the range of your router to ensure you can access the internet from your designated outdoor living space, for example. Alternatively, you might choose to have power outlets installed in discreet locations so that you can incorporate entertainment into your outdoor living space.
Although modifications can be made in the future, it's easier to include these practical extras from the outset. When you build them into your design, you can use spectacular exterior design to hide wiring or fixtures, for example.
7. Use Outdoor Fabrics
Many people shy away from using fabrics outdoors, which is understandable when you consider how much rainfall we get in the UK! However, fabric is an important way of increasing comfort and helps to make a space feel more welcoming. Choosing fabrics that are designed for outdoor use, such as outdoor seating or outdoor rugs, ensures you can enhance your outdoor living space with stunning designs and textures while still selecting decorative pieces that are suitable for use outside.
Bring Your Outdoor Living Room Ideas to Life
When you increase the functionality of your garden, you effectively transform it into another room. Whether you plan on spending your days soaking up the sun, working from home, or enjoying time as a family, an exquisite outdoor living room will enhance the function, style, and versatility of your home.