Mirrors certainly play a functional role but their impact on interior design should never be underestimated. With the potential to add depth and brightness to any space, a mirror is a simple yet effective way to elevate a room.
If you want to create the best effect, however, it's important to position mirrors in suitable locations. Whether you're enhancing a hallway, kitchen, bedroom, or living area, mirror placement matters. To help you achieve the best results, take a look at these top interior designer's tips for beautiful mirror placement:

1. Hang Opposite or Next to Windows to Amplify Light
If you want to make a room feel brighter, hang mirrors in a location where they can reflect the natural light. Generally, hanging a mirror opposite a window will allow it to reflect the most light but placing a mirror next to a window will also capture and reflect a considerable amount of light too.
By using a mirror in this way, you can make the space feel lighter and brighter throughout the day. Even when the weather is overcast or the sun is nowhere to be found, whatever natural light is available will be amplified by your new mirrors.
2. Brighten a Space by Reflecting Artificial Light
Mirrors don't only reflect natural sunlight, so don't hesitate to use them to reflect artificial light too. If you're designing the interior of a space that has few windows (or no windows) at all, use mirrors to maximise the amount of light in the room.
Placing a mirror close to a floor-standing lamp, wall light or even a desk lamp can have a big impact on how much light is created. What's more – the mirror will diffuse the light and amplify it without creating a harsh or cold environment.
3. Create a Focal Point
A mirror can complement existing features, such as mantlepieces, but they can also be statement pieces in their own right. If you want to create a focal point in a room that's lacking a centrepiece, use mirrors to draw people's attention.
An ornate, carved mirror can be as impactful as a painting or sculpture, for example, while coloured mirrors can be fun and playful. If you don't fancy hanging a large or oversized mirror, use smaller pieces to create a focal point on one wall.
4. Recreate Windows to Make Smaller Spaces Feel Larger
There are plenty of areas in a home that may not have windows to provide natural light, such as hallways or WCs. Hanging a mirror in these spaces can recreate the feel of a window and instantly make the room feel larger.
Additionally, if you want to blend one space into another, you can use a mirror to create this effect. If you have a partition wall that separates an otherwise open-plan space, for example, adding a mirror will make the room feel more unified.
When choosing a mirror for this purpose, you can even select a piece that recreates the size and shape of a small window. A circular, quarter arch or hexagonal mirror can easily give the appearance of light flowing through a window.
5. Experiment with Mirrored Art
Artwork can be a great addition to a home or workspace. With mirrored art, you can brighten and uplift a space while displaying impactful design. When combined with other materials, such as wood, metal, or coloured glass, a mirror can be a spectacular form of wall décor. With larger pieces, you can even create a captivating accent wall in high-impact areas, like hallways and foyers.
6. Use Black and Grey Mirrors to Create an Impact
When you're using mirrors to enhance your interior design, you don't need to rely solely on standard glass that offers a 'mirror image'. In the same way that mirrored artwork can be an enthralling statement piece, dark coloured mirrors can have the same impact.
A black, grey, slate, or bronze mirror can add a touch of lightness to bold interiors and will complement a contemporary design perfectly. Paired with natural materials or an industrial interior, this modern styling will elevate the space and add depth to the space.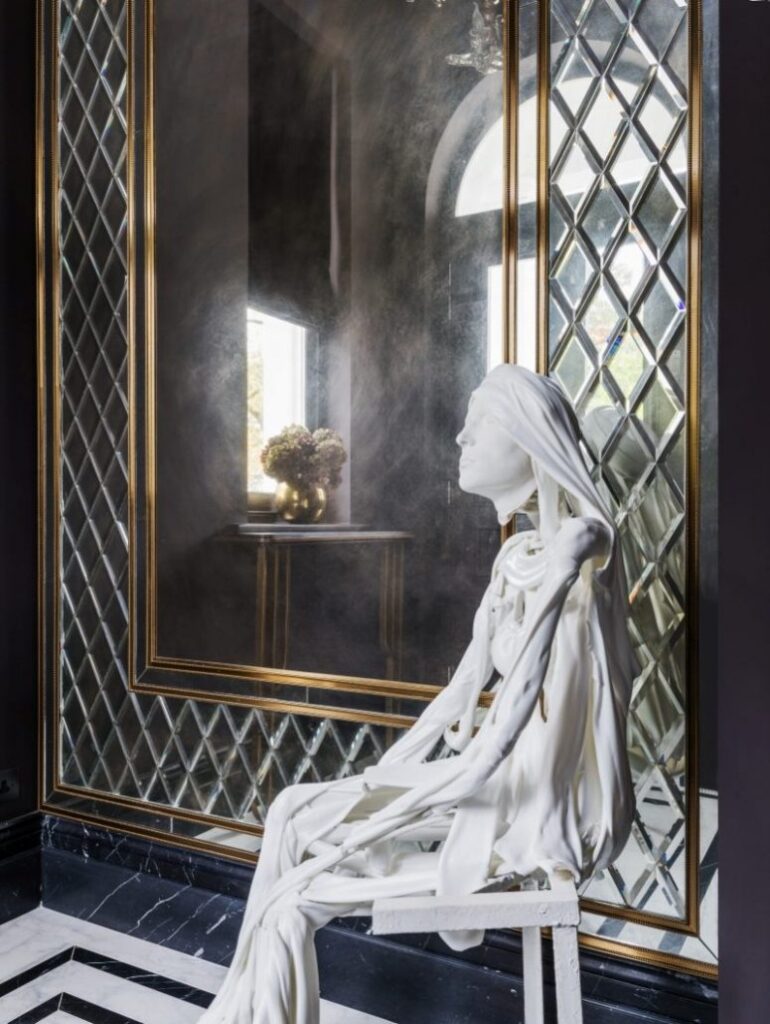 7. Hang Mirrors at the Right Height
Mirrors should typically be hung at eye level, which is usually around 57 – 65 inches from the floor. However, the perfect placement depends on exactly where your mirror will be situated and what surrounds it.
If you're hanging a mirror above a piece of furniture, for example, the height of the furniture will have an impact on where the mirror should be hung. Ideally, you'll want to leave a gap of at least four inches between the furniture beneath the mirror and the bottom edge of the mirror, as this provides a 'visual break' between the two pieces.
When you're hanging mirrors above furniture, do make sure that leaving a gap between the pieces won't result in the mirror being too high. Instead, opt for a small mirror that will create an impact without making the space feel overcrowded.
8. Lean Mirrors Instead of Hanging Them
If you never seem to get round to hanging new mirrors or artwork, there's an easy alternative: lean them against walls or furniture instead! Not only will this ensure that you get to display your latest pieces without going to the trouble of hanging them, but it can also add a different effect.