Bookshelves don't just enhance your interior design; they offer functionality and versatility too. When you're incorporating a run of shelves in a room, however, it takes some savvy styling to prevent the space taking on the appearance of a library or bookshop. Whether you're redesigning your living space, overhauling your home office or even curating your own home library, take a look at these top tips for styling a run of bookshelves:
1. Think About How Much Space You'll Need
If you're going to install new shelving systems, you'll want to ensure they're tailored to your needs. After all, an overflowing bookcase is going to detract from your décor and do little to enhance your interior design.
Take a look at your current collection of books and estimate how much space you're really going to need. To get an accurate idea, it can be helpful to measure a selection of books and multiply it based on how many books you own.
Remember – if you're an avid reader or a collector, you're likely to acquire more books in the future, so factor this into your plans. Furthermore, you'll want to include a range of other pieces within your shelving system, so be sure to take this into account when you're planning the space.
2. Reassess Your Interior
Once you know how much space you're likely to need, you can begin deciding where to situate your bookshelves. You may already have a dedicated space, such as alcove shelving, or a blank wall you need to fill. If not, identify areas in your home that lend themselves to extra features.
Bookshelves can work well in home offices, living areas and even bedrooms, providing you've got the space and the room won't feel cluttered. If you have a large number of books, don't be afraid to split your collection and feature a run of bookshelves in different areas of your home. By doing so, you can maintain a cohesive design throughout the property, without overcrowding one room.
3. Choose the Right Material
Bookshelves come in an endless range of materials, which means they can be incorporated into any interior. What's more – it's easy to repurpose vintage pieces and use them as bespoke shelving units. Whether you're creating a traditional, cottage-core feel or a contemporary, uber-modern living environment, choosing the right materials for your bookshelves will ensure that they fit seamlessly into your décor. From natural and reclaimed wood to metal, acrylic and glass, there are a wide variety of options to explore.
4. Complement Your Colour Palette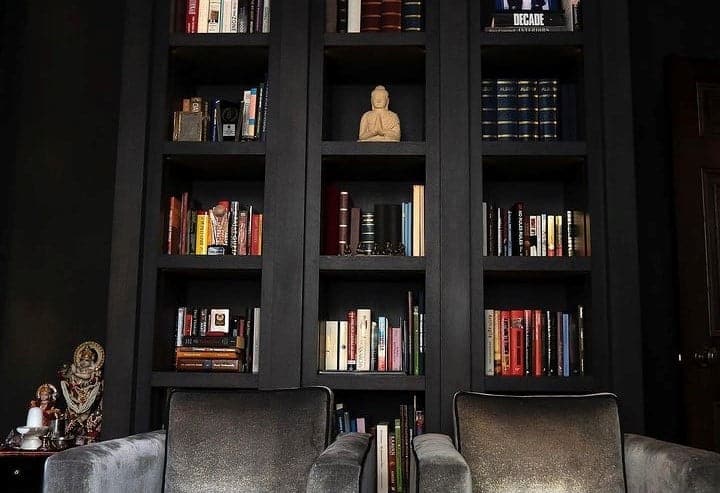 Credit: Shalini Misra – Deep rich charcoal paint on built in cabinetry adds both drama and depth to this home office in one of our recent completed projects.
Depending on the material you choose for your bookshelves, you may be able to modify the colour or finish yourself. This can be a great way to enhance existing shelving units or to upcycle vintage pieces that you want to use for display purposes.
The colour you choose for your bookshelves is going to have a major impact on how conspicuous they are, so think about whether you want them to be a feature in the room or if you want them to blend seamlessly into the background. By painting bookshelves in the same shade as the wall, for example, you can create an unobtrusive feature that doesn't detract from your décor. Alternatively, a bold or vibrant colour turns your run of bookshelves into an aesthetic focal point.
When you're selecting the colour of your bookshelves, bear in mind that the books and decorative pieces they're going to hold will need to complement the shelves themselves. This may mean that choosing a neutral or minimalist shade is the best option. This gives you the flexibility to adorn your shelves with anything you choose, without having to worry about hues competing with one another.
Moody, dramatic shades can create a sense of intrigue and luxe sophistication and are the perfect foil for accent pieces in jewel shades and metallic finishes. Adding smoky and dramatic hues to a bookshelf or library unit bring an understated yet powerful aesthetic to the space.
5. Segment Your Books
For book lovers, segmenting your collection can be the trickiest part of styling a run of bookshelves, but it's well worth the effort. Some people prefer to segment their books according to the colour of the covers, as this allows you to style your bookcases more easily. Alternatively, you may prefer to segment your books based on their size, so that books of a similar size can be grouped together. This helps to create clean lines once they're placed on the shelves and enhances their aesthetic appeal.
6. Vary the Placement of Books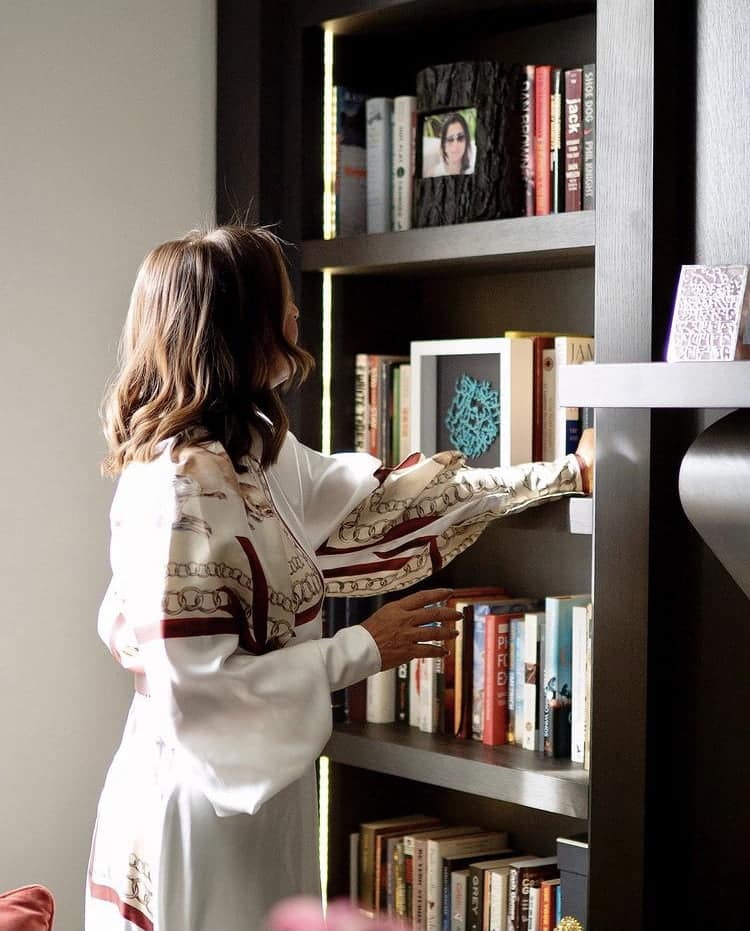 Credit: Shalini Misra
When you begin placing your books on shelves, don't place them all in the same way. Instead, lay larger books horizontally, stand some books up and leave others leaning against them as a makeshift bookend. This allows you to add creativity into the styling of your bookshelves and prevents them from appearing bland in terms of their design.
7. Leave Blank Spaces
If you're installing a run of bookshelves in a room, you won't want to fill each shelf up with books. This can make the area seem too full and even cluttered. Instead, leave some space bare, so that each shelf looks well-styled and carefully thought-out, rather than simply being a storage area for books.
If you want to add an interesting focal point, use artwork in a blank space to complement the décor. You can either hang art behind the shelves and let it be visible or, if the shelves have backing, you can place it directly on the shelf or affix it to the backing.
8. Use Your Favourite Decorative Pieces
As well as using a run of bookshelves to store your favourite literary works, be sure to include your favourite decorative pieces too. Adding a vase, candle, vanity tray or sculpture helps to break up a run of books and adds new elements to your interior design.
Use Shelving to Enhance Your Interior Design
Shelving may serve a functional purpose in any home, but it can also be a key element of your design. When you take a creative approach to styling, a run of bookshelves can be the perfect addition to any room.