The ceiling is a much-overlooked space yet incorporating it into your interior design can have a tremendous effect. If you've relied on white ceilings until now, it's time to rethink your approach and determine how decorative ceilings can enhance your interiors. For inspiration, take a look at these eight ways to make decorative ceilings a feature in your designs:
1. Use Colour
White is typically used on ceilings, but this doesn't mean you have to stick to a neutral shade on the fifth wall. In fact, using colour to brighten up your ceiling can be an effective way to add drama and decadence to a room, without dominating the space. Even in minimalist designs, adding bold colours to the ceiling can create a more dynamic environment while ensuring the eye-level design retains a sense of a calmness and serenity.
If you're hesitant to use solid colour on your ceiling, try using patterns to avoid overpowering the room. From simple stripes to chequered squares, there are endless ways to inject colour into your ceiling design.
2. Match Walls and Ceilings
If you want to create a cocoon effect, use the same colour on walls, trims, and ceilings. This works particularly well if you're using a neutral palette or soft tones, like dove grey. By matching the colour throughout the room – including the ceiling – you can create a welcoming and enveloping environment that exudes comfort and calm.
By choosing furniture and accessories that complement yet contrast the wall and ceiling colour, you'll add visual interest and texture to your interior while maintaining a soothing feeling of continuity and serenity.
3. Hang Wallpaper
For an easy way to add texture to a room, try hanging wallpaper on the ceiling. Many homeowners are hesitant about this approach but, once you see the finished result, you'll discover why so many designers use wallpaper to redefine the fifth wall. From subtle grains to more noticeable surfaces, a wallpapered ceiling can add character to any space and achieve a balance with eye-level décor and furniture.
4. Install Wood Panels
Wood panel ceilings work equally well in traditional spaces and modern rooms, which makes them an ideal choice in any home. They are an excellent way to add texture and can be an eye-catching feature in their own right.
However, if you want to integrate the ceiling into your interior design without it feeling overpowering, use paint to mitigate the impact of wood panels and incorporate it more fully into your colour palette. Rustic, reclaimed wood with visible streaks and knots can create a cosy, cottagecore feel, for example, while sleek, smooth, and narrow panels work well in contemporary and minimalist rooms.
5. Illuminate Ceiling Panels
Combining a decorative ceiling with lighting design is a fantastic way to create an ambience and illuminated ceiling panels will bring any room to life. You can use ceiling tiles of any size to add depth to the ceiling, giving the appearance of recessed and drop sections. With hidden lighting fixtures illuminating the ceiling, it becomes an eye-catching feature and a main focal point in the room.
Alternatively, you can use illuminated ceiling panels to create a subtle yet impactful atmosphere. With soft, pinpoint lights or a gentle drop between the ceiling and tiles, the effect becomes more delicate, which can be an effective way to achieve balance with your existing décor.
6. Go Glossy
People typically use matt paints when adding colour to walls and ceilings, but a glossy ceiling can be an innovative way to turn this space into a feature. Not only will a gloss finish look super-stylish, but it can also lend itself to incorporating unusual or organic shapes. If a particular space has unusual proportions, for example, a glossy ceiling will enhance its proportions and add visual interest without dominating the room.
You can even use a glossy ceiling to add curvature to a room by adding waves to the ceiling. While contrasting colours will draw the eye, a single gloss colour adds interest and texture in a gentler way.
7. Add Depth with Moulding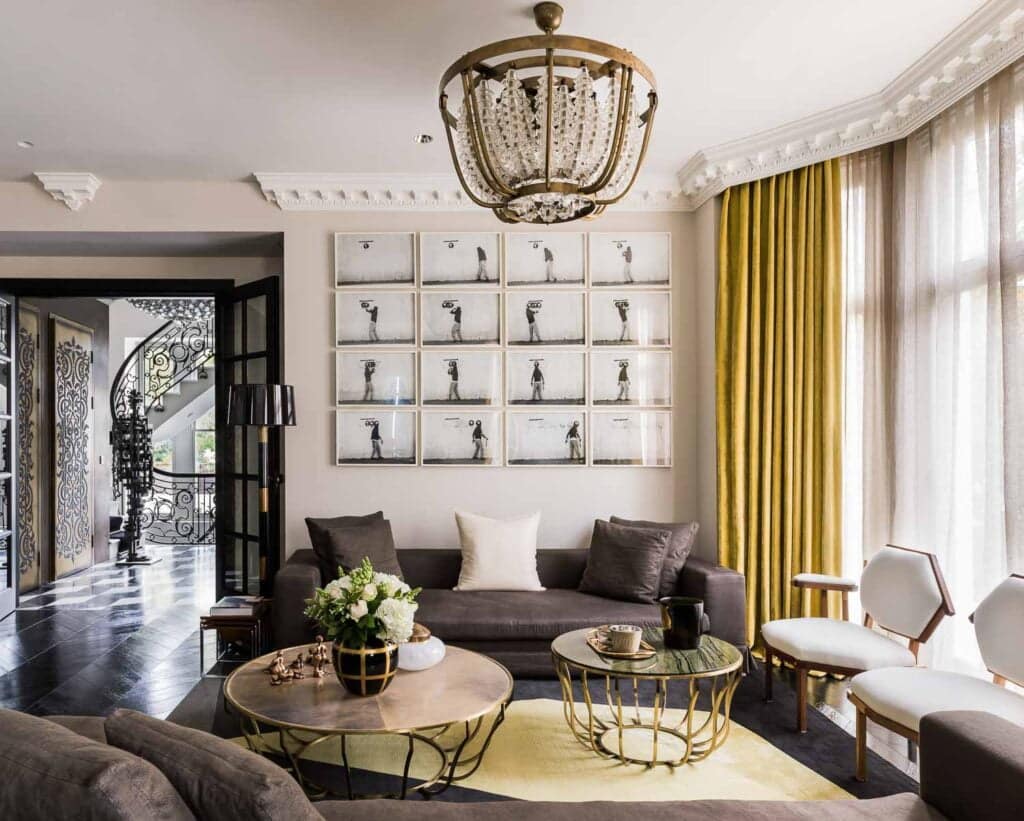 Ceiling mouldings add elegance and sophistication to any room, but they're also a good way to inject depth and texture to your interior design. While ceiling mouldings are often associated with traditional styles, there are a variety of options that work well in more modern spaces too.
A coffered or waffle ceiling can work extremely well with a classic interior, for example, while geometric patterns can deliver a contemporary feel. If you want to maximise the impact of ceiling moulding, use contrasting colours on the trim to draw the eye and match the walls and décor.
8. Create Height with Multi-Level Panels
If you want to create the illusion of space, a multi-level ceiling will increase the appearance of vertical height and make the room feel larger. People often use ceiling panels to create a two-level ceiling, but there's no need to stop there. By using multiple panels at different levels, you can make the ceiling appear virtually never-ending.
In addition to adding depth, a multi-level ceiling gives you the opportunity to integrate a range of decorative ceiling ideas too. You might illuminate one level of the ceiling and use textured wood on another, for example. This adds visual interest and texture, while creating a unique fifth wall that brings the entire interior together.
Adding Decorative Ceilings to Your Interior Design
Now you know what's possible when it comes to decorative ceiling design, you will never be tempted to overlook the fifth wall again! With so many design options to choose from, integrating decorating ceilings into your interior design gives you the opportunity to enhance the space with new ideas, textures, finishes and colours.
While people often assume that decorative ceilings are best suited to larger spaces, like expansive hallways or spacious dining rooms, this isn't the case. With the right design, a decorative ceiling can be an excellent addition to any room and any style.